So, on a whim, I've decided to do a Sword of the Stars Let's Play. Now, I do have something of a history of rigging this game in my favor – that is, playing on settings that give me an advantage. Well, this time I won't! I will set it up to make things easier on myself at the beginning, but the AI will have EXACTLY the same advantages that I do.
The Scenario
I like long, slow games that give me time to build up my technology. For this game, we will be playing on a Mini Clusters map with 100 stars. With six factions, that comes to three clusters apiece, with two more up for grabs. As usual, I've set the Size and Resources sliders to max, because I like having bigger planets. It makes exploration more valuable – if they were set too low, you'd never find a planet that came even close to matching your homeworld. Distances between the stars are set to 5, since it sucks when your ships juust can't make a jump. Random Encounters is set to 25%, since I'd like this to be focused on battles between players, not a slog to blow through the random encounters.
Each faction will begin with a starting warchest of one million credits, but no technologies. Presumably, we all only just developed FTL capability. I will also give each player 3 starting worlds – those they reached STL. To make the game go faster, research and economic efficiency are at maximum.
The Factions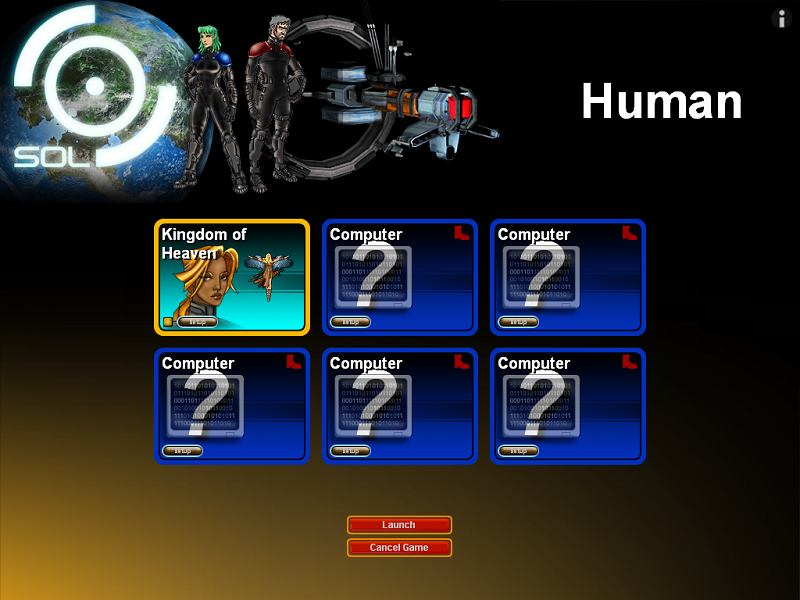 My two favorite factions in Sword of the Stars are the Humans and the Liir, with the Morrigi in third. The Liir have faster tech, are unlimited in where they can go, and are more likely to get quite a few specific techs (like cloaking and advanced energy weapons). Humans, on the other hand, move faster between the stars, get a more balanced tech distribution… and roleplaying them just comes easier. My concept for this game works more for humans anyway.
My own Humans will be known as the Kingdom of Heaven, the reasons for which will become apparent soon. All other factions will be completely randomized, aside from having Normal difficulty.
The Rule
I love roleplaying, and I always insert a little of it into my games. Here, my humans will be a kingdom of religious zealots. Names will either be religious in nature, or be taken from locations in the Middle East. And I will have one rule – heretics may not be allied with, whether human or alien. I can form non-aggression treaties, but that is it. One by one, they will all perish in the name of G-d.
His Will Be Done!
Turn 001
Today, I received word that our prototype ship had returned from Gaia, proving the new Node Drive technology as workable. Tonight, when I went out to look at the stars, something was different. No longer were they merely lights in the sky – they were real places, places we now could go to. No longer were we confined to this world – now, the universe was open to us.
Personal journal entry by Dr. Amanda Paige, research director, Department of Astrophysics, Royal Academy of the Sciences. Dated January 1st, 2401.
For RP purposes, I will be counting each turn as a single month.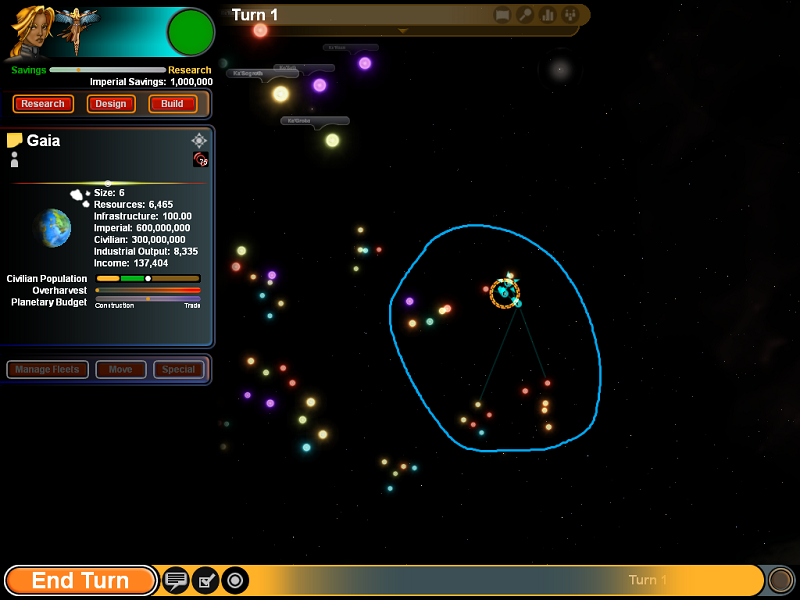 We find ourselves in a fairly decent starting position – out on the edge of the map, with three clusters close by. I intend to claim all three as soon as possible. Our homeworld is named Mira, and the other two worlds are Gaia (size 6, with 6,465 resources), and Serpens (size 4, with 4,320 resources). Serpens has node links to two other clusters.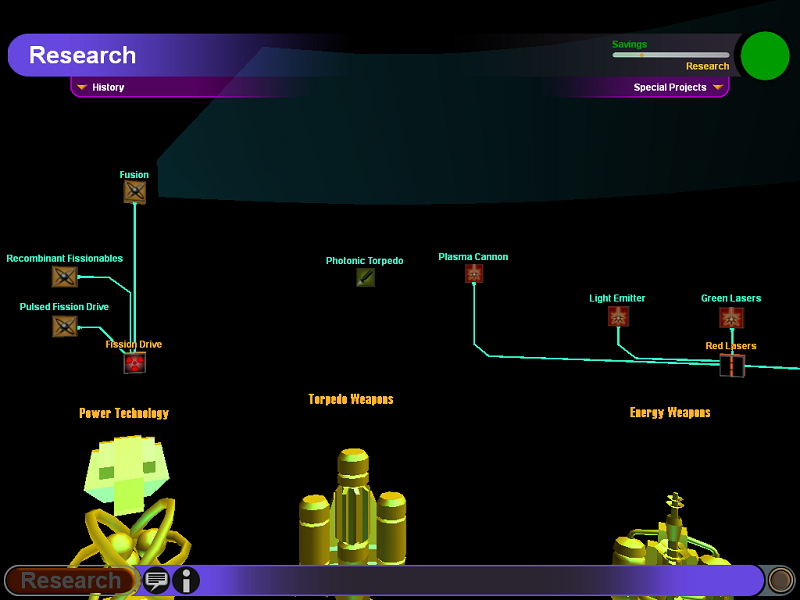 A scan of the tech tree indicates that we got fairly lucky – available tech includes plenty of propulsion stuff, plus light emitters. Fusion is only 13 turns away with the research slider at 75%, so I decide not to bother with upgrading my fission drives unless I find a pressing need to. A quick check of known and probable node lines indicates that I should be able to scout my immediate vicinity with ordinary fission drives. Instead, I go for FTL Broadband – getting trade ships ASAP will be a significant boon, and they don't care about what drives I use.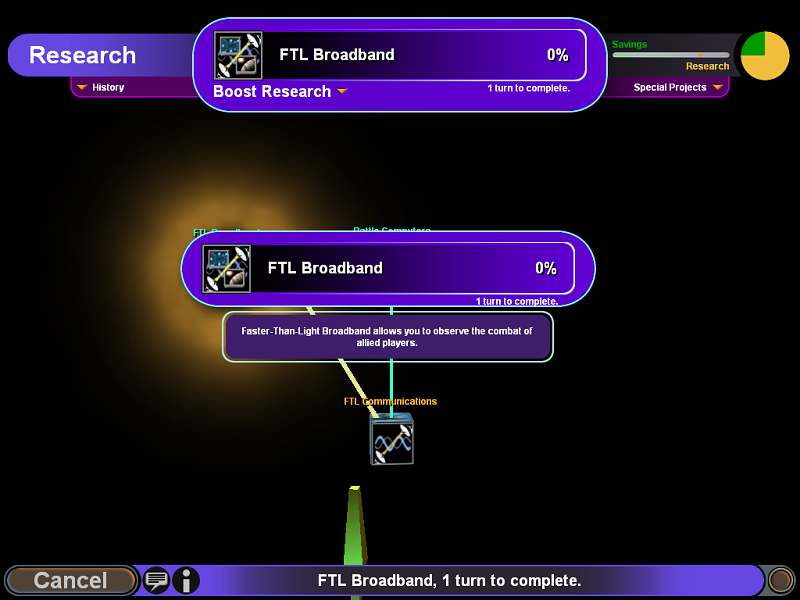 Now that that's done, it's time to begin exploration. For that, I will need ships. I pop over to the Design menu, and do what I do at the start of every game – delete all the starting blueprints. Because I like naming things, dammit! I design two ships to start: the
Seeker
-class Extended Range ship, and the
Nomad
-class Tanker.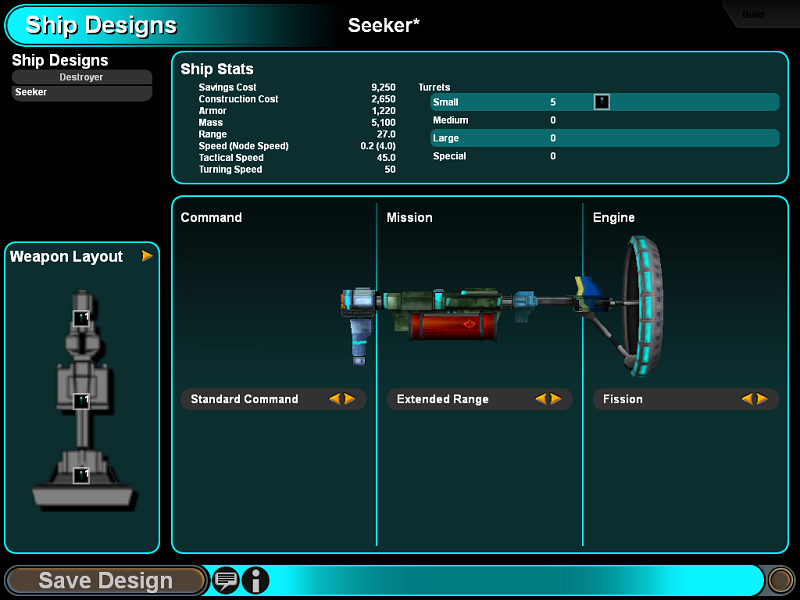 With the designs complete, I head over to the Build menu. I order up five of each class, one each in Gaia and Serpens, and three in Mira – all I can get in one turn.
Turn 002
My dearest sister,
I write to you with both joy and sadness. Joy, that I have been honored to command one of our first starships; sadness, that it is possible – even likely – that I may never see you again. Our journey will be long and perilous, and I fear I may not return. Do not weep for me, sister. I have chosen this path. Even if I die, the information my ship transmits back home will help our people plot their path to the future.
Love,
Your brother, Henry

Personal letter from Commander Henry Britton, CO, 1st Scout Squadron, Navy of Heaven, to his sister, Commodore Rachel Britton, Head of Ballistics Research, Bureau of Weapons Research, Navy of Heaven. Written February 15th, 2401.
My ships are completed. I divide them up into squadrons, named the 1st, 2nd, 3rd, 4th, and 5th Scout Squadrons, and send them out to the neighboring stars. The 1st is bound for Down, in a neighboring cluster. The 2nd and 3rd will hit Fort and Beta Hydri, the two unexplored stars in my home cluster. The 4th will go to Serpens, so it can follow the 1st into the new cluster. The 5th will go to Gaia, and serve as my reserve – I will send it where it is needed. As Commander Britton's letter implied, it is unlikely any of them will ever return home.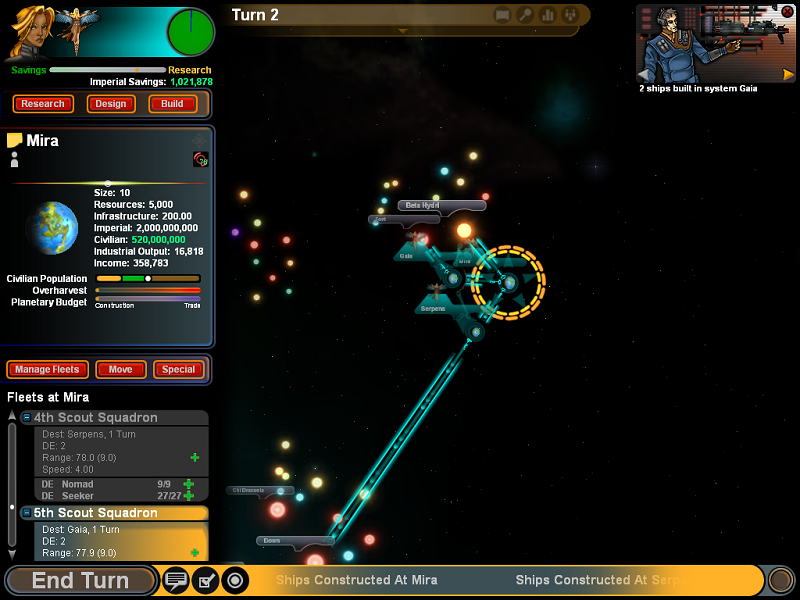 FTL Broadband is completed. I next research FTL Economics, so I can get freighters soon.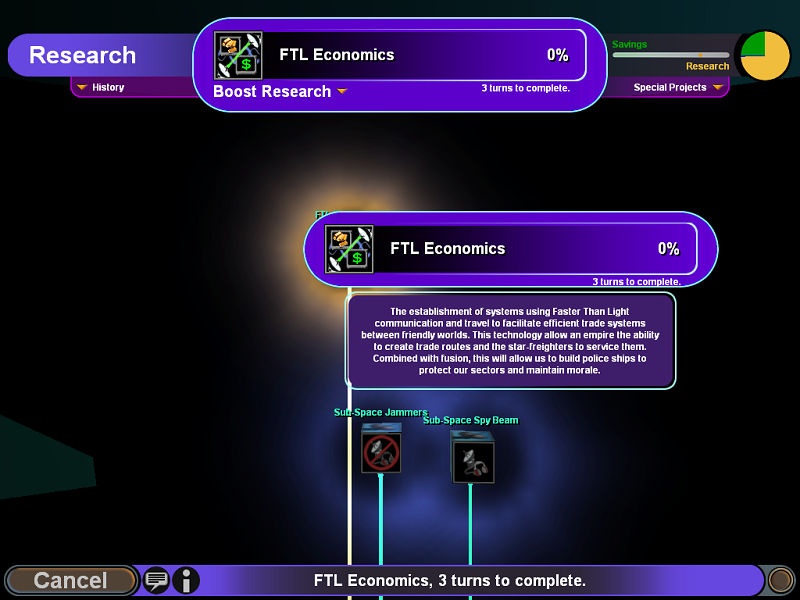 We have an encounter with the Swarm at Beta Hydri!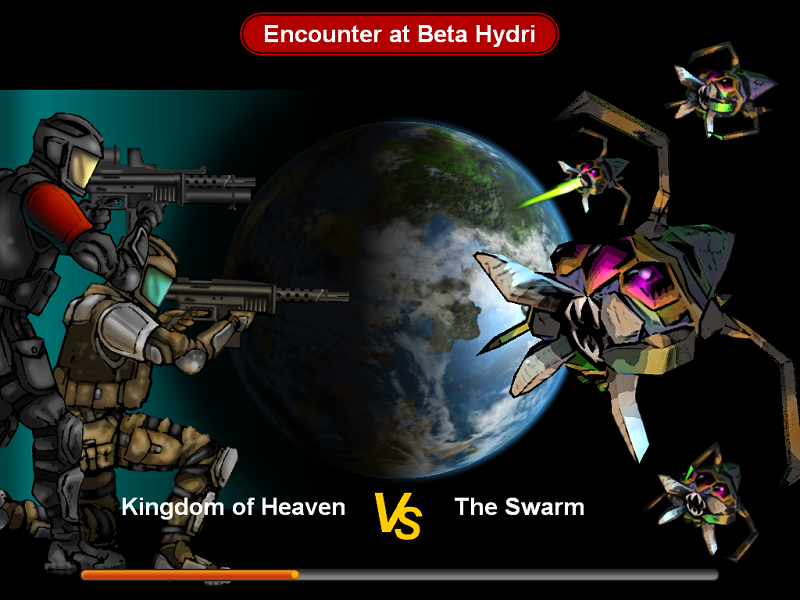 Unsurprisingly, the 3rd Scout Squadron is massacred.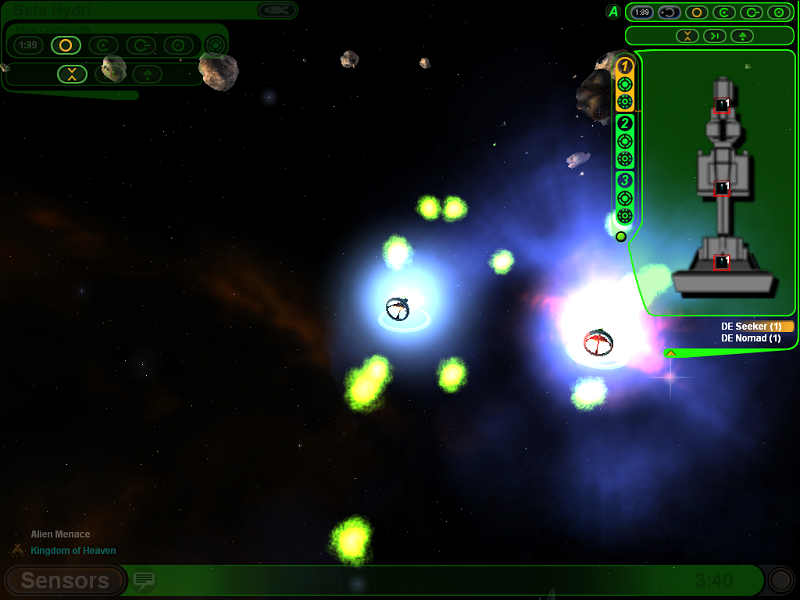 Turn 003
…Queen Esther declared a national day of mourning for the crew of the 3rd Scout Squadron, who were killed yesterday by aliens identified only as "the Swarm" while scouting the Beta Hydri system. She has also charged our military with finding a way to defeat the Swarm…
Article in the Mira Tribune, March 7th, 2401
While I do intend to destroy the Swarm ASAP, I will not halt my research. I plan to finish FTL Economics, then get Battle Computers and Light Emitters.
On the bright side, Fort has proven to be a good planet to colonize. I use a formula I found on the wiki, which goes (Size*10 – Hazard Rating/10 + Resources/1000 = Planet Rating). 60 is the usual margin. Fort rates a 105, which is pretty high. I decide wait a bit to colonize it – colonizing too early would be a drain on my economy. In the meantime, I notice that Fort has node lines to two clusters. I could potentially snap up four clusters, which would put me at a huge advantage. I send the 2nd Scout Squadron off to Midway, in the next cluster.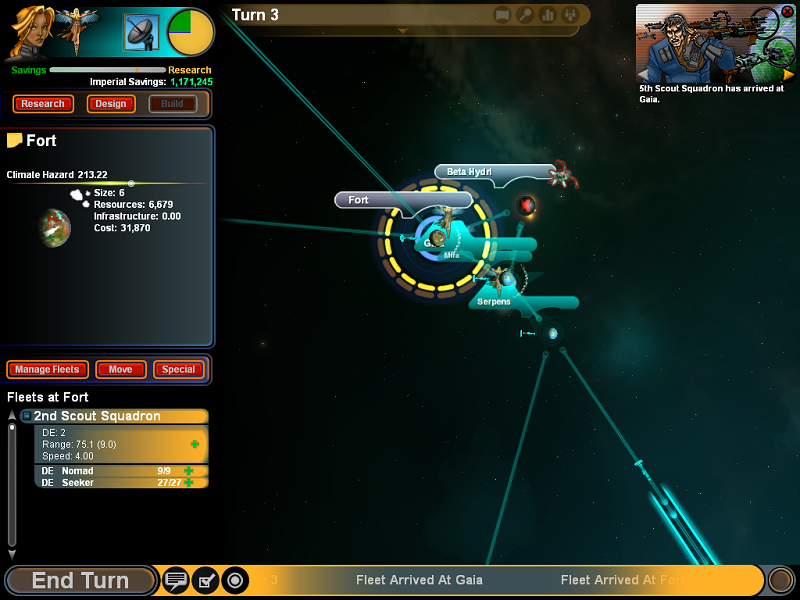 Turn 004
"It's not that bad. I've seen apartments that were less habitable."
Comments by Commander Henry Britton, CO 1st Scout Squadron, Navy of Heaven, on the environment of the planet Down. Dated April 22, 2401.
Down is also pretty good, rating a 107. It also links to the Midway cluster. Unfortunately, the system it links to is called Ke'Trath, indicating that that cluster is probably adjacent to the Tarkas. I send more ships into the Down cluster.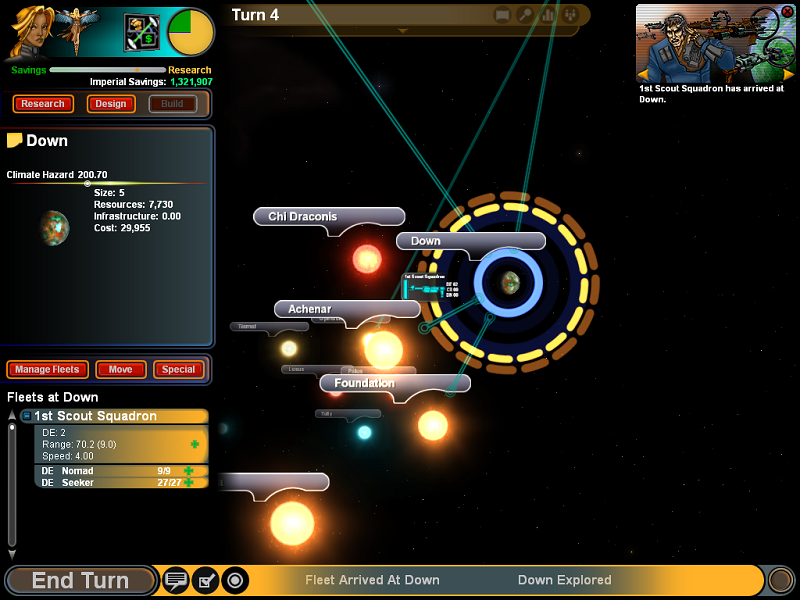 Turn 005
"You'd THINK that economists would be better at staying within a budget…"
Comments by Queen Esther I of the Kingdom of Heaven, regarding some of her scientists, May 18,2401.
FTL Economics is behind. And the 2nd Scout Squadron has reached Midway, which is a 400+ hazard planet. It does manage to score a 70 on the desirability scale, but only a 70. The 1st reached Achenar, which is an uninhabitable lump of rock.
Turn 006
"Are you CERTAIN I can't have one of them executed to encourage the others?"
Comments by Queen Esther I of the Kingdom of Heaven, regarding some of her scientists, June 24,2401.
FTL Economics is STILL overbudget. But at least I reached the planet Kor'Kora, a massive planet near Midway. It'll be a priority for colonization. Chi Draconis, in the Down cluster, isn't as big, but it's extremely strategic.
Turn 007
"The stock market spiked today with the news that our kingdom's best economists have finally developed a system for properly organizing interstellar trade. Already, major corporations are making reservations for cargo runs on ships that have yet to make it off the drawing board…"
Article in the Heaven Financial Times, July 9, 2404.
Well, I finally got FTL Economics. I push out a design for the new Progress-class freighter, and start building them… or I would, if the sector were secure. Which it isn't. Oh, well. I start work on Light Emitters, and push the research slider to full. I need to get some warships to clear out Beta Hydri and secure the sector ASAP.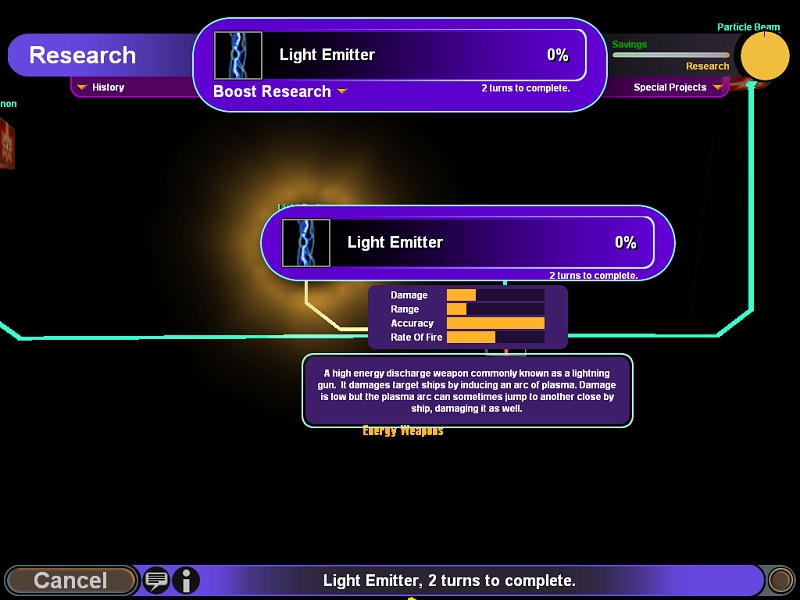 On the exploration side, there's one decent planet (Foundation), one crappy one (Kor'Hakaan), and one that may be off the network entirely.