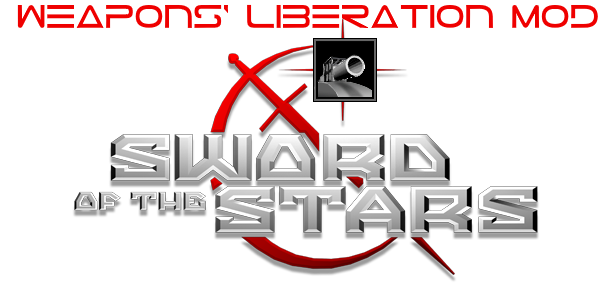 What started as an attempt to add more large weapons to spinal quickly grew out to a larger mod.
Features :
- All large turret and heavy beam
(Ion Cannon Frigate!
)
weapons enabled for the Spinal Mount DE section. The Spinal Mounts tech doesn't require Particle Beam or Heavy Driver, and a new fast-firing (15 times faster than by default) red laser weapon has been added as a placeholder weapon to use until you research some big gun.
(Why so little love for Spinal from the devs?)
(In addition, no large turret weapon tech has CR as a prerequisite anymore.)
- Heavy beams enabled in large turrets. To compensate for their longer range and alpha strike, and so as to incite people to still research large beams, the turreted and
DE spinal heavy beam recharge time has been doubled
.

(Yay for hit-and-run tactics!)
Had to disable this in 1.2 because I used the Zuul freebeams to do that, and those seem to be hardcoded so I can't just add a large heavy beam weapon with different characteristics.
(Plus heavy beams in large mounts, even with fire rate halved, were probably breaking balance too much.)
- Assault, Barrage, DN War and Flagship sections now don't need Heavy Beams to be available. Two new placeholder weapons (one torpedo, one heavy beam) have been created that fire red lasers at a various rates but with a total DPS similar to respectively HCL and Disruptor (they are still weaker, because they have all the features except fire rate of red lasers).
The Morrigi Assault section need neither Torpedo nor Heavy Beam to be available. (I tried to use an "OR" condition but it didn't work.)
(Now you don't need Heavy beams anymore to play with your torpedoes!)
(This doesn't work with Zuul anymore.)
- The War sections are available from the start, regardless even of whether there's a Zuul in the game.
(Because sometimes, even in small games with no Zuul, you want to play with big guns!)
- All the missile-only Medium, Large or "Planetary" Missile turrets have been changed to accept
any
kinds of size-corresponding weapons, whether on ships
(I'm looking at you, Humans!)
or satellites. The Heavy Platform "Planetary" Missile can now be placed in large turrets (and spinal mounts) and is unlocked by researching Heavy Planet Missiles.
(Now you can do optimally armed close combat Barrage CR, and not only Morrigi have the luxury of large beams in medium sats!)
- Strafe sections and Heavy Drones can mount all weapons (of appropriate turret size) now, missiles and dumbfire racks in particular.
- Tried to fix Detonating torpedoes not doing area damage by making them automatic fire instead of manual.
Minor fixes:
- dam_est of the spinal neutron beam has been set to 300 (the same as the regular neutron beam).
Update Log :
1.4a
- War sections now require Advanced Robotics.
- Changed main screen's title.
1.4
- Made Detonating torpedoes automatic (instead of manual) fire, trying to fix the issue of them not doing area damage.
1.3
- Removed CR requirements for all large turret weapons research.
- Heavy Missiles can be used in spinal mounts too now.
- Added the missing min_ and max_inclination values for defense platforms formely missile-only turrets. (By the way it would seem that there was a bug in the vanilla game because the Medium Torpedo Platforms could mount non-missile weapons in their large mounts, but these values were missing.)
* There is still the problem that since platforms usually have only one weapon bank for these guns, then they can only target a single object with both of these guns, which means that usually only one of these guns will be able to fire, considering their placement. But the unmodded morrigi medium platform probably already had this problem.
* Problems with HCL's and Lancers in Spinal DE's and the "Standoff" behavior.
1.2
- Fixed : Removed heavy beams on large turrets and placeholder red laser weapon for heavy beams for Zuul due to problems.
1.1
- Strafe sections and Heavy Drones can mount all weapons now.
- CR no longer required for Heavy Beams research.
- Fixed : Zuul can now use ships with "fixed" heavy beams again.
- Fixed : free cutting beams not appearing for large mounts.
1.0a
- Turreted and Spinal heavy beams dam_est reduced to 75% of the former to account for the doubled reload time.