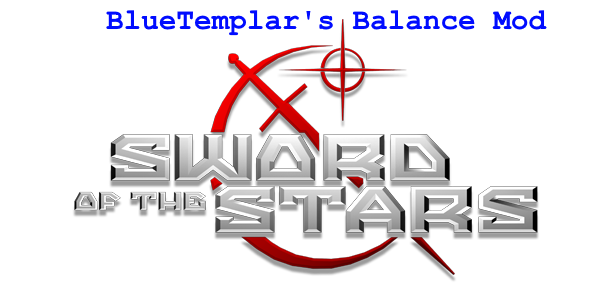 This mod aims to go further than my
Weapons' Liberation Mod
(that aimed to stay the closest to vanilla SotS as possible) and actually changes things like tech costs, simplifying trade, and (indirectly) making light emitters less powerful in the early game.
BlueTemplar's Balance Mod Changelog
===================================
0.4b
----
* bugfix : forgot to copy morrigi freighters in mod folder, now done
-33% recharge time of the 3 heavy spinal beams (now same as non-spinal again) (rating_frate and dam_est changed accordingly)
- Stormers now only require VRF, it's the Heavy Stormers that require Mass Drivers
-25% tech cost of Heavy Stormers
0.4a
----
-33% recharge time of the 3 heavy spinal beams (now only 150% of non-spinal)
-25% tech cost of Heavy Plasma Cannon
0.4
---
+50% trade sector size
x5 DE&CR freighter income (trade, captured, killed)
x5 DE&CR freighter money and IO cost
= QFreighter income and cost set to be the same as CR freighter income
/5 freighters per trade route
for less trade micromanagement
/4 health, mass, cost and cpoints of hiver DE & CR extended range
so that these sections actually see some use
0.3
---
- New link to Hardened Electronics from Reflective coating :
allows "IND_HrdElec RP:25000 Human:67 Zuul:100 Hiver:100 Tarkas:86 Liir:11 Morrigi:45"
calculated as the chances

not

to get light emitters

divided by

the chances to get reflective coating
(this is actually 117% for Hivers and 400% for Zuul, but Hivers are more resistant to emitters due to their toughness, and Zuul can much more easily steal them)
the idea with the second link (along with the halved tech cost) is to make emitters, and especially light ones, more easily countered
0.2
---
= Techcosts /4 :
Stealth Armor (and its OPTION_COST 1.5 => 1.0)
Plasma Torpedo
Overthrusting
Shield Mk1
Node Missiles
Integrated Sensors
Nodetracking Human
Nodetracking Zuul
Advanced CnC
Data Correlation
Tunneling Sensors
COL
Autonomous Drones
Crybaby COL
Tarpit COL
= Techcosts *2 :
Cruiser Construction
= Techcosts /2 :
== Weapons :
Disruptor Torp
Photon Torp
Heavy Combat Lasers
Plasma Cannon
Particle Beam
Polarised Plasmatics
Plasma Projector
Inertial Cannon
Detonating Fusion Torpedo
Detonating AM Torpedo
Sniper Cannon
Heavy Driver
Burster
Stormer
== Other :
Reflective Coating
Improved Reflective Coating
Hardened Electronics
Asteroid Monitor
Modular Construction
Orbital Drydocks
Zero-G Deconstruction
Heavy Platforms
Hardened Structures
Intangibility
Plague
FTL Broadband
Subspace Spy Beam
Commerce Raiding
Quantum Chaff
Scanner Satellites
Shield Mk2
Predictive Gunnery
Combat Drones
Drone Squadrons
Drone Satellites
Drone Wing Management
Advanced Drone Frames
Battle Riders
Cracker COL
0.1
---
- Changed main screen's title.
- Changed description of Advanced Robotics to reflect them enabling War sections.
0.0 ( <=
Weapons' Liberation Mod 1.4a
)
---
- War sections now require Advanced Robotics instead of Translate Zuul.
- Made Detonating torpedoes automatic (instead of manual) fire, trying to fix the issue of them not doing area damage.
- Heavy Missiles can be used in spinal mounts too now.
- Added the missing min_ and max_inclination values for defense platforms formely missile-only turrets. (By the way it would seem that there was a bug in the vanilla game because the Medium Torpedo Platforms could mount non-missile weapons in their large mounts, but these values were missing.)
* There is still the problem that since platforms usually have only one weapon bank for these guns, then they can only target a single object with both of these guns, which means that usually only one of these guns will be able to fire, considering their placement. But the unmodded morrigi medium platform probably already had this problem.
- Strafe sections and Heavy Drones can mount all weapons now.
- All the missile-only Medium, Large or "Planetary" Missile turrets have been changed to accept any kinds of size-corresponding weapons, whether on ships (I'm looking at you, Humans!) or satellites. The Heavy Platform "Planetary" Missile can now be placed in large turrets (and spinal mounts) and is unlocked by researching Heavy Planet Missiles.
- Except for Zuul : Assault, Barrage, DN War and Flagship sections now don't need Heavy Beams to be available. Two new placeholder weapons (one torpedo, one heavy beam) have been created that fire red lasers at a various rates but with a total DPS similar to respectively HCL and Disruptor (they are still weaker, because they have all the features except fire rate of red lasers).
The Morrigi Assault section need neither Torpedo nor Heavy Beam to be available.
- All large turret and heavy beam weapons enabled for the Spinal Mount DE section (CR no longer required for Heavy Beams research. DE spinal heavy beam recharge time has been doubled.)
The Spinal Mounts tech doesn't require Particle Beam or Heavy Driver anymore, and a new fast-firing (15 times faster than by default) red laser weapon has been added as a placeholder weapon to use until you research some big gun.
(In addition, no large turret weapon tech has CR as a prerequisite anymore.)
* Problems with HCL's and Lancers in Spinal DE's and the "Standoff" behavior.
Credits :
----------
The Kerberos team for their awesome games!
Alpha Centauri, R2dical and others for their ideas and interesting discussions!