Greetings!
Welcome to a sepparate page for the Total Convertion Mod: Fragmented Sectors.
This project is a WIP and honestly it is a very long lasting WIP that may take months to actually have at least destroyes for one of the factions, so if you are interested... please be patient and do occasionally come here and post 'hey, Okim, how is it going? Got any fancy pictures to share?" cause interest in someone`s work is the best stimulus ever!
Interlude
Most of you are probably aware of ACM mod that changes human models, totally rewamps tech tree and introduced a bit of stuff into the game (such as drops ships or doomstars, for example). TCM: FC will inherit a lot of my ideas and work put into that ancient mod, so be prepared to encounter many of odd design choices and other oddities!
You may also know that there were other projects that i`ve started and never actually finished... Such as 'There is only War' mod or the other 'TCM' with crude overpowered human ships. These were dropped mostly due to the fact that i always failed to achieve the desired quality of what i was about to deliver. Unsattisfied with my work i always lost interest in continuing.
I DO hope that TCM: FC wont meet that fate. Mainly cause what i`m modelling for this mod surpaces everything i ever done for modding or work or whatever else!
Fragmented Sectors - whats that?
After i made ACM and some failed attempts to mod anything else for SOTS ive moved to other titles in search of new inspiration and challenges. i found a Starsector game for which i was making a mod for a year or so while it was in development. Mod can be found on the game developers site under the name 'Project Ironclads' - not gonna give a direct link in case it may violate some rules and etc.
Ironclads in Starsector described a history of humanity 200+ years after the development of FTL drive. Humanity wasn`t united and was formed of 4 major nations and several minor factions. There were RSF, ISA, UIN, XLE, FFS and some pirates with unique ship sets called Marauders. The fact that there were no aliens at all was quite inspirational and TCM: FC is supposed to inherit this very idea that humanity is all by itself in the void of space.
Of cause there were warring nations and ofcause there were peaceful ones. This all pretty well translates to the current species were have in SOTS!
The initial colonisation around Earth was more or less peacful and incident free. There were a lot of places to expand to and euphoria of long-lusted space expansion kept all excited and forgiving.
However, the greater the nations expanded, the bigger they grew - the less free space they had to settle on. Border tentions began to become an often occurance and tentions grew fast. Cold War between all factions was a normal state of diplomacy for quite a long time.
The situation turned into full scale erradication war once one of the nations discovered advanced alien tech in some ruins and refused to share it. The resulting war with highly advanced weaponry involved resulted in total devastation of major nations and following collapse of all centralised gouverment for everyone involved. All what remains now are isolated, cut off from supply lines or ruined colonies that either pull all the resources to simply survive the aftermath of war or attempt to preserve what little they have to later rise again.
In TCM: FC player takes control of one of such colonies that retains its ties to one of the old empires following and preserving its ideology, technology and traditions. The increased number of independent colonies and increased cost of colonisation is planned to simulate the aftermath of great war and hardships of recovery from it.
A bit about planned factions
Since Ironclads already have a good set up of factions with unique ship designs and weapon prefferances - there is basically a fully developed idea of what will be present in TCM: FC. Below i`ll list the playable factions that player can pick and a bit of info on the faction. An image will also be provided to allow for some idea of how the ships will look like in TCM: FC based on that game`s 2D sprites of mine.
Note though that there wont be 100% similarity in looks. Not even 50% actually since those old 2D sprites are both outdated and a bit boring to fully transform into models of same shapes.
You can see how the RSF ship will look like and attempt to trace the similarities between it and the sprite it is based on: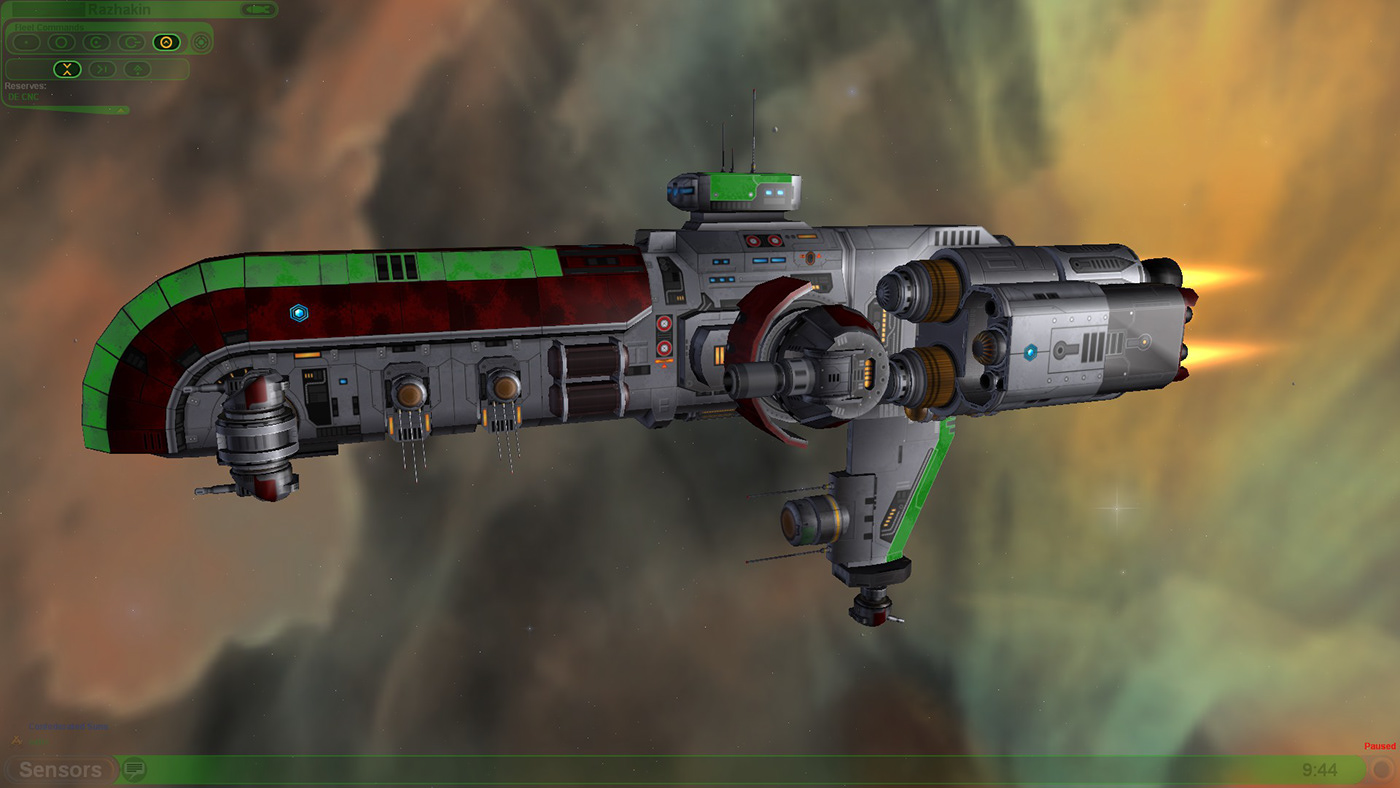 RSF - Russian Stellar Federation.
---------------------------------------
Replaced species / FTL: hivers (gates)
Affinity: point-defence, beam laser weapons, standard ballistics, unguided ordnance
RSF is a faction of isolationist people who prefer to be left to their own devices, but who also pretty much ignore other factions` claims, opinion and demands. Much as hivers of SOTS RSF of TCM: FC are both ruthless expansionists and defencive xenophobs. RSF was formed from old Russia with its 22th century allied nations and eventually a number of former Soviet-era republics.
ISA - Interstellar States of Americas.
----------------------------------------
Replaced species / FTL: humans (nodes)
Affinity: armor (coatings and etc), missiles, plasma, blasters (pulse lasers)
ISA are a democratic alliance of multiple star-states with a single person acting as a 'final word' leader and congress of states celebrities acting as a decision making power. ISA are peaceful in most cases, but love to go where others don`t want them to be. ISA were originally formed by USA, Japan, South Corea and South America`s nations who`s resources USA badly required for initial space colonisation programs.
UIN - United Interstellar Nation.
---------------------------------------
Replaced species / FTL: tarkas (warp)
Affinity: shields, advanced ballistic, particle weapons, emp weapons.
UIN take roots from the old Earth`s European Union greatly expanded with numerous additional African, Indonesian, Polinesian and some of middle East nations over time. UIN are obsessed with technology and are somewhat territorial. Making friends with them is unusually hard.
XLE - Xin Lao Empire
---------------------------------------
Replaced species / FTL: liir (statter drive)
Affinity: defence fields, fusion weapons, phasors, electron weapons
XLE can be translated something like 'The Empire of the Throne of Stars' if one attempts to use modern Chineese. XLE was formed from China, Mongolia, India and other Asian nations with some middle East territories joining them in exchange for the chance to participate in colonisation. XLE are peaceful, diplomatical and hate war much like their Liir counterparts in SOTS. But if provoked they can be deadly! According to TCM: FC lore XLE discovered ancient alien ruins and triggered a full scale war when refused to share the spoils.
FFS - Federation of Free Stars
------------------------------------------
Replaced species / FTL: morrigi (grav)
Affinity: stealth, absorbers, drones, grav weapons
FFS are a faction of traders. Formed by UIN and XLE colonies that broke off their former masters they may have issues with two of these. FFS in TCM: FC wish to reincarnate the devastated civilisation and see trade as powerful means to do so.
MAR - Marauders
------------------------------------------
Replaced species / FTL: zuul (rip drive)
Affinity: boarding, numbers, neutron weapons and whatever they can salvage
Marauders are clans, bands and whatever else you can call them. They are groups of people who survived the impossible on the fronts of war between ISA and RSF. Being constantly bombed, infected, ruined, invaded, liberated, bombed and infected again they somewhat figured out that enough is enough and broke any and all alleagencies to whomever was their ruler effectively declaring war for the whole sectors. When they reached that decision and managed to get their scrap-built trashfleet into space they have discovered that there were no one to fight for their freedom. All what was left from the major factions were abandoned or ruined colonies barely capable of sustaining themselves in many parsecs around their systems. These poor worlds soon became the target for Marauder slave runs, raids and own invasions.
Finishing words
The idea of this mod boiled for several years, but it always was a matter of skills and time to initiate the project and keep it progressing.
I do currently possess the whole image of the picture of TCM: FC and already made a lot of 'behind the curtain' work by planning what techs will be in there, how the tree will form up, what weapons and ship sections will be used and how the factions should look like.
Im currently playtesting first models of HD ships and preparing the rest so that i can at least show some work done to those who are still out there in SOTSverse and are interested to see where this one will lead to!