I do like the vanilla ballistics but for how I've been imagining things and gameplay preferences, it really isn't compatible. While its cool to have ships get knocked around due to mass actually mattering, it can also get very annoying very quickly.
The largest flaws of vanilla ballistics is their supply consumption and how they very often miss. Since I don't know how Fire Control and AI Command stuff actually works in SOTS2 since I can't find any information within the .dll's or the files, I suspect all they do is lower deviation which doesn't do much to actually make them more accurate when firing at a target and it leading far too much.
----------------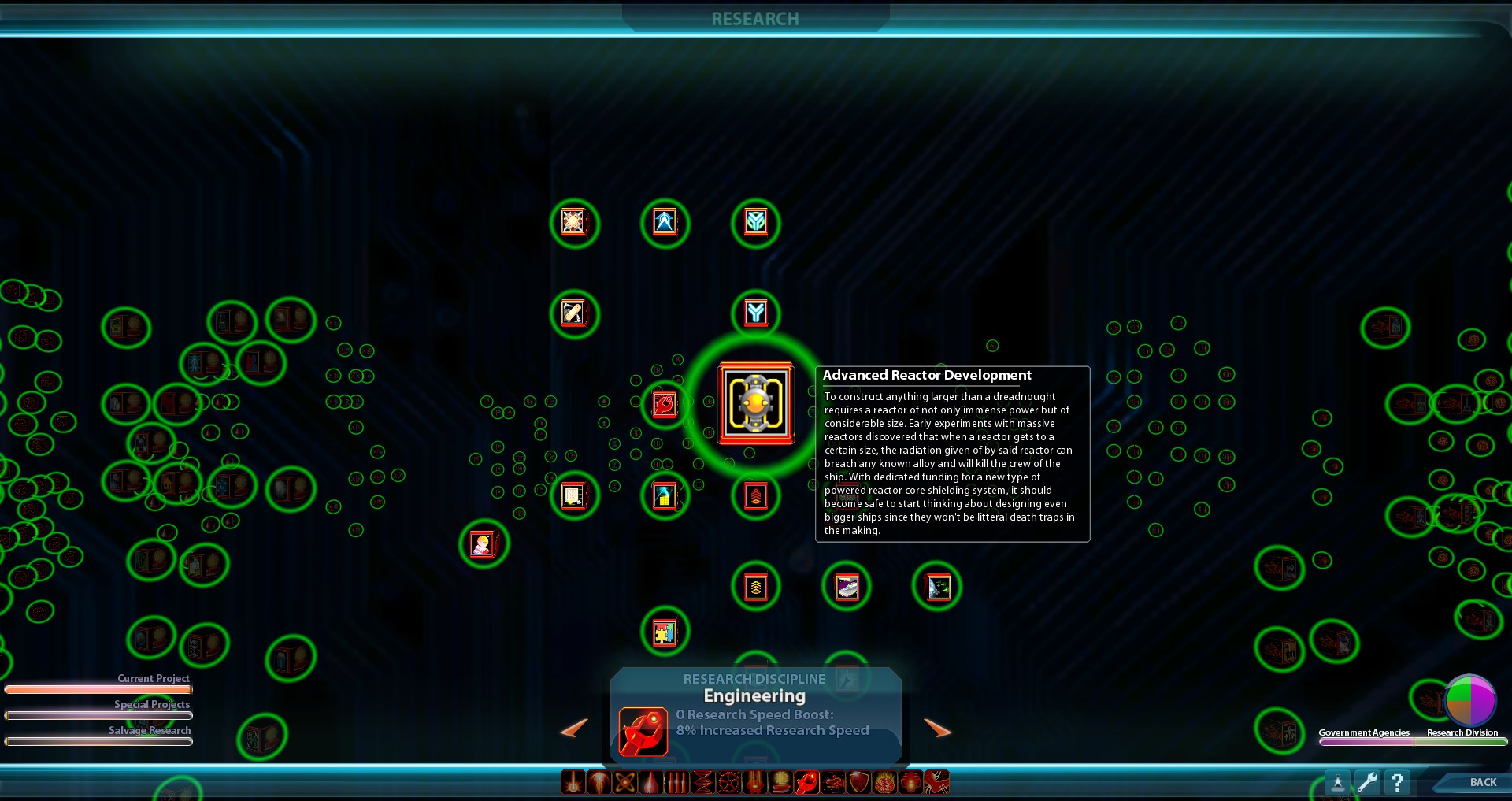 Finally found an icon which makes some sense since I replaced Turret Installations a long time ago. Whether or not this makes actual sense, I'm not sure. But its better than what was there before.
"To construct anything larger than a dreadnought requires a reactor of not only immense power but of considerable size. Early experiments with massive reactors discovered that when a reactor gets to a certain size, the radiation given of by said reactor can breach any known alloy and will kill the crew of the ship. With dedicated funding for a new type of powered reactor core shielding system, it should become safe to start thinking about designing even bigger ships since they won't be literal death traps in the making."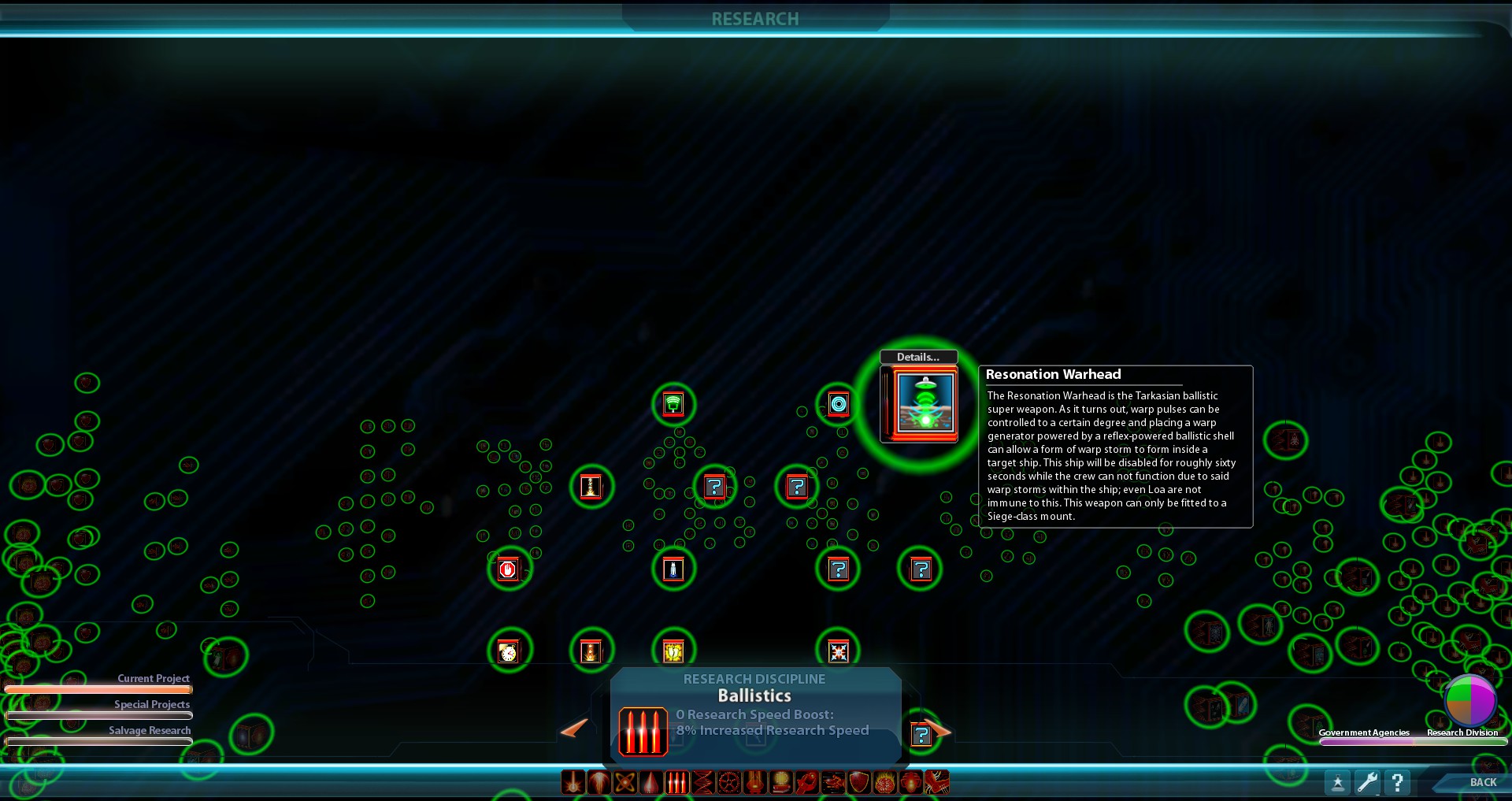 First draft of the Tarkasian's ballistic super weapon.
"The Resonation Warhead is the Tarkasian ballistic super weapon. As it turns out, warp pulses can be controlled to a certain degree and placing a warp generator powered by a reflex-powered ballistic shell can allow a form of warp storm to form inside a target ship. This ship will be disabled for roughly sixty seconds while the crew can not function due to said warp storms within the ship; even Loa are not immune to this. This weapon can only be fitted to a Siege-class mount."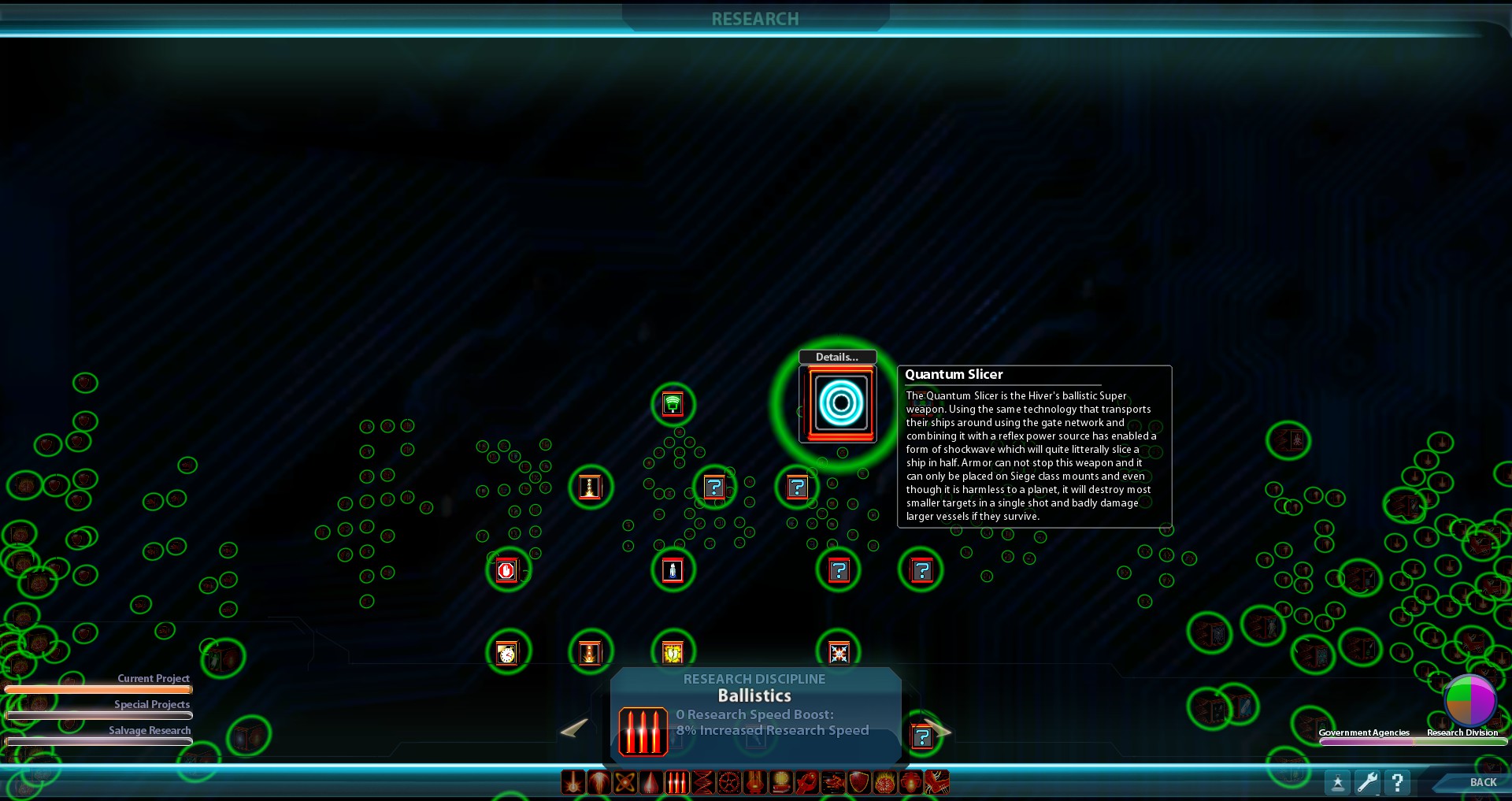 First draft of the inevitably overpowered Hiver ballistic super weapon. I think I know of an impact effect which'll do what I want.
"The Quantum Slicer is the Hiver's ballistic Super weapon. Using the same technology that transports their ships around using the gate network and combining it with a reflex power source has enabled a form of shockwave which will quite literally slice a ship in half. Armor can not stop this weapon and it can only be placed on Siege class mounts and even though it is harmless to a planet, it will destroy most smaller targets in a single shot and badly damage larger vessels if they survive."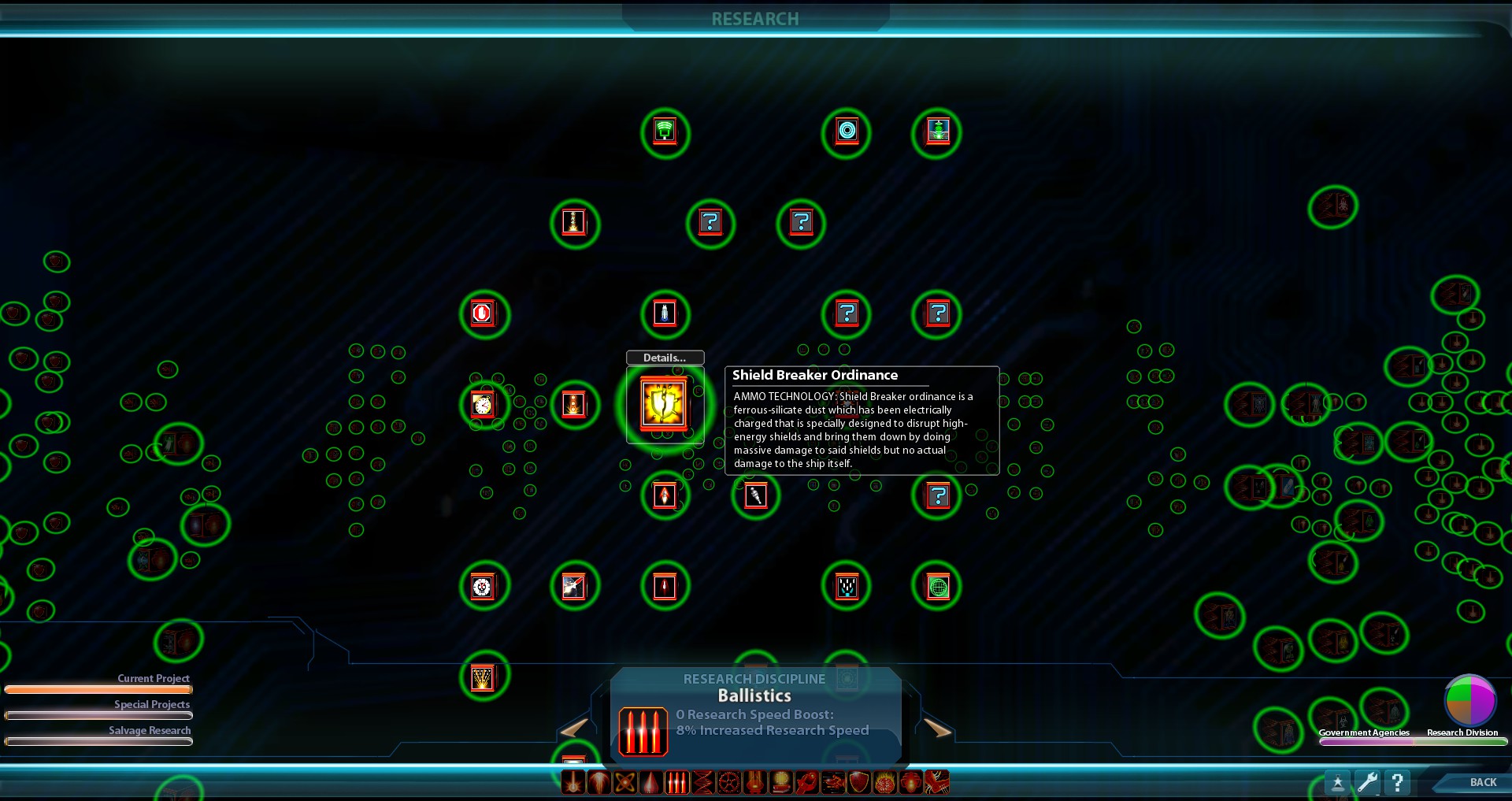 This is a work in progress shot of the tech tree. The question marks indicate techs which I've not yet determined what I'm going to do with yet.
That's the old description of the shield breaker I should say, not yet updated it.
To the left are a corrosive (DoT) cannon, a ballistic based inertial cannon and a grav based ballistic weapon which should bring a ship to a dead stop or at least hold them in place.
After that is the ballistic torpedo, and two Stormer techs which are now HCL-class weapons with one being fusion era and the other being AM era.
AP and HEAP only exist for the fusion era right now and the icon which looks like the old VRF tech is the one which advances you to the Antimatter era.
Covered by the UI is the tech which advances you to the fusion ballistic era and where bursters are. The tech above the burster is the shotgun burster.
The green planet one is the bombardment rounds which are unchanged from the last version since they did very well.
The green magnet at the top is where Neutronium rounds used to be, it instead now serves as the way to unlock the reflex era ballistic weapons and is required for the two superweapons for the Hivers and Tarkas.
COL is still there but I'll be merging them when I get to it, so I've got four question marks which are spare techs right now and one question mark is Acceleration Amplification, of which I'll put its icon back when I get to it.
I am assuming that two of the question marks will wind up being AM-era weapons with the last two being reserved for reflex-era weapons.
------------------------------------------
EDIT:
Its time for some PH Lore! Within the tech tree? Yep... Due to AI improvements and other things, there's plenty of spare techs of which I can use for this purpose. All of these techs are free, do not do anything and are researched at the start.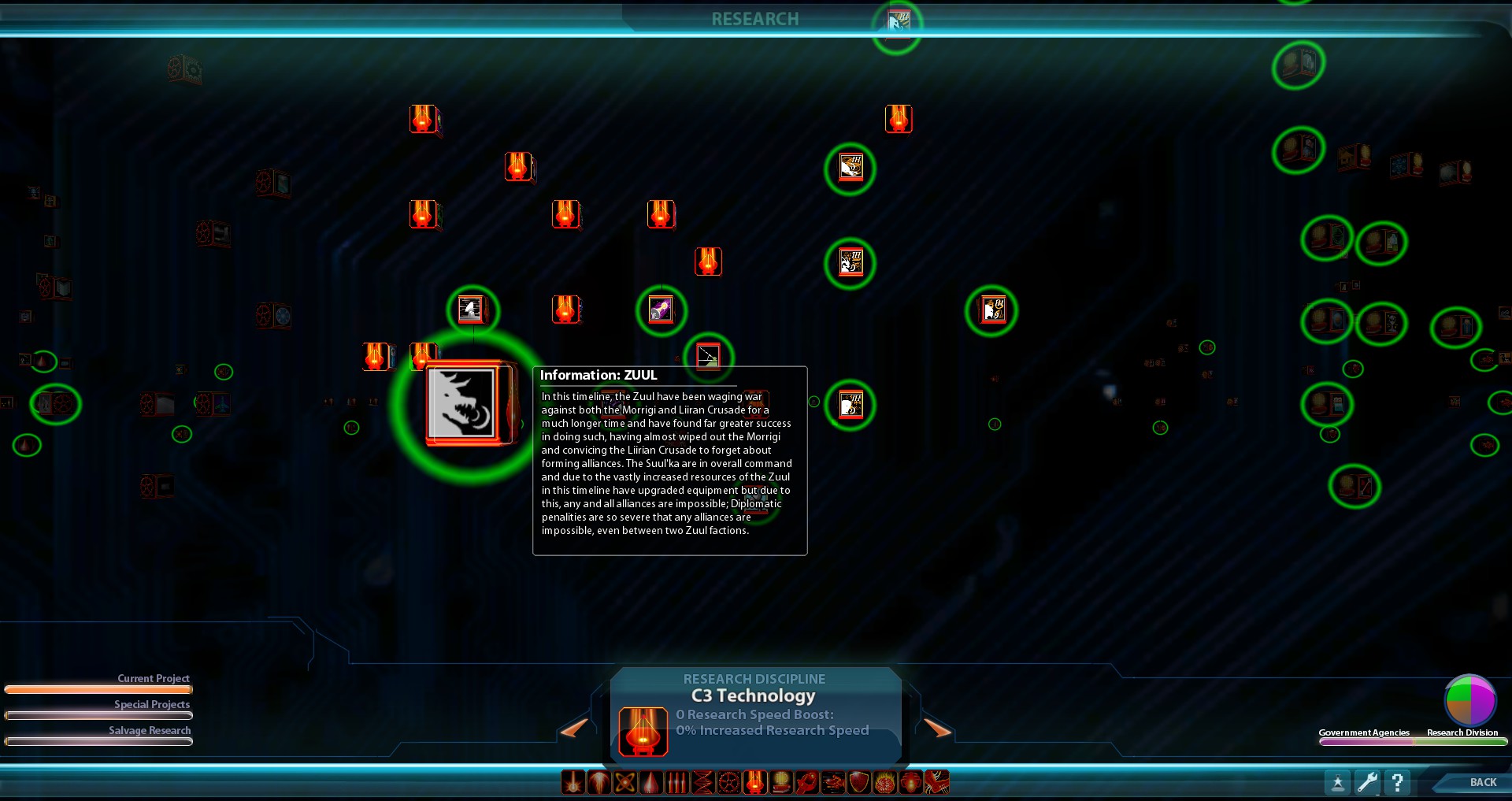 "In this timeline, the Zuul have been waging war against both the Morrigi and Liiran Crusade for a much longer time and have found far greater success in doing such, having almost wiped out the Morrigi and convincing the Liirian Crusade to forget about forming alliances. The Suul'ka are in overall command and due to the vastly increased resources of the Zuul in this timeline have upgraded equipment but due to this, any and all alliances are impossible; Diplomatic penalties are so severe that any alliances are impossible, even between two Zuul factions."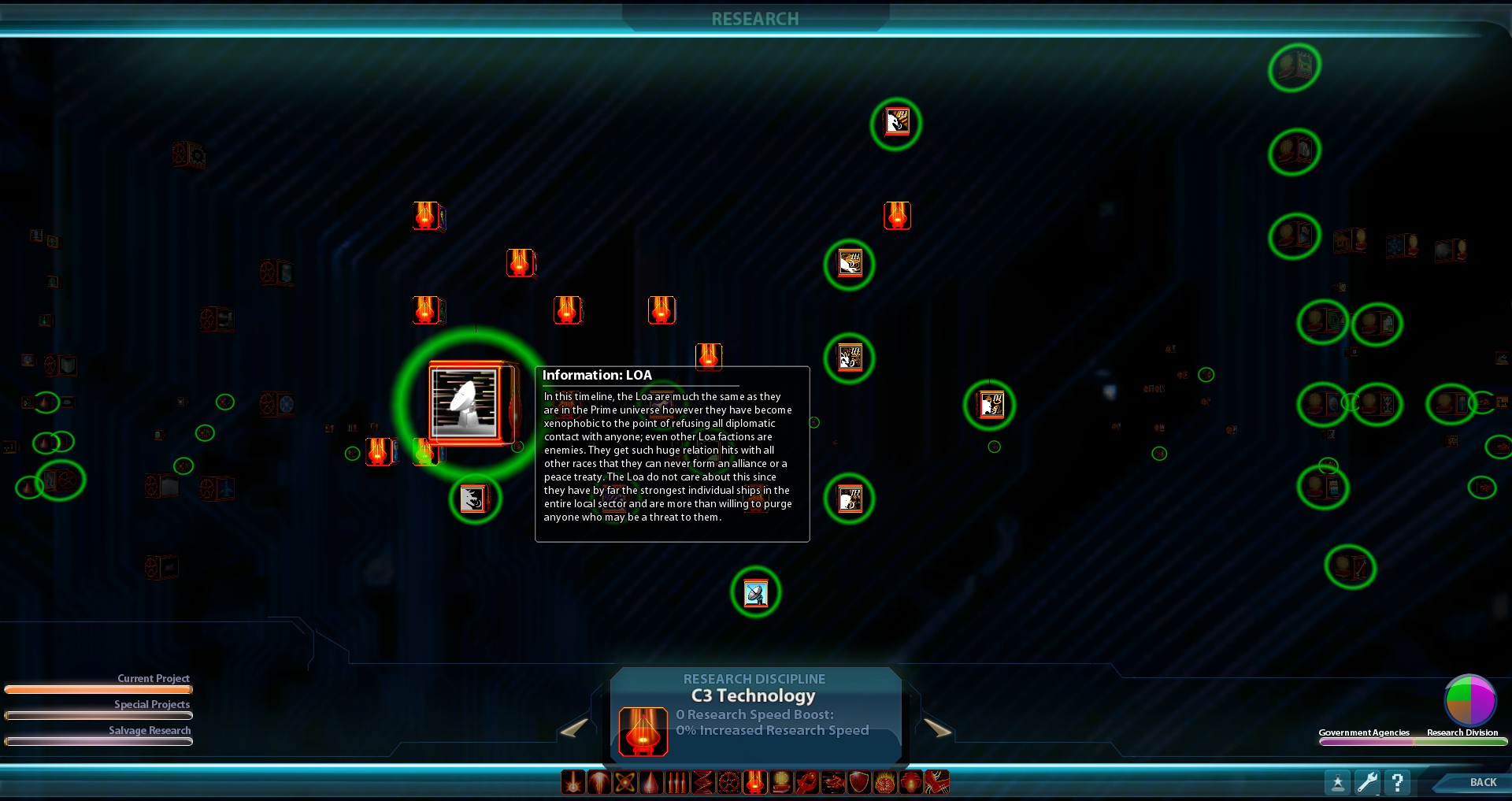 "In this timeline, the Loa are much the same as they are in the Prime universe however they have become xenophobic to the point of refusing all diplomatic contact with anyone; even other Loa factions are enemies. They get such huge relation hits with all other races that they can never form an alliance or a peace treaty. The Loa do not care about this since they have by far the strongest individual ships in the entire local sector and are more than willing to purge anyone who may be a threat to them."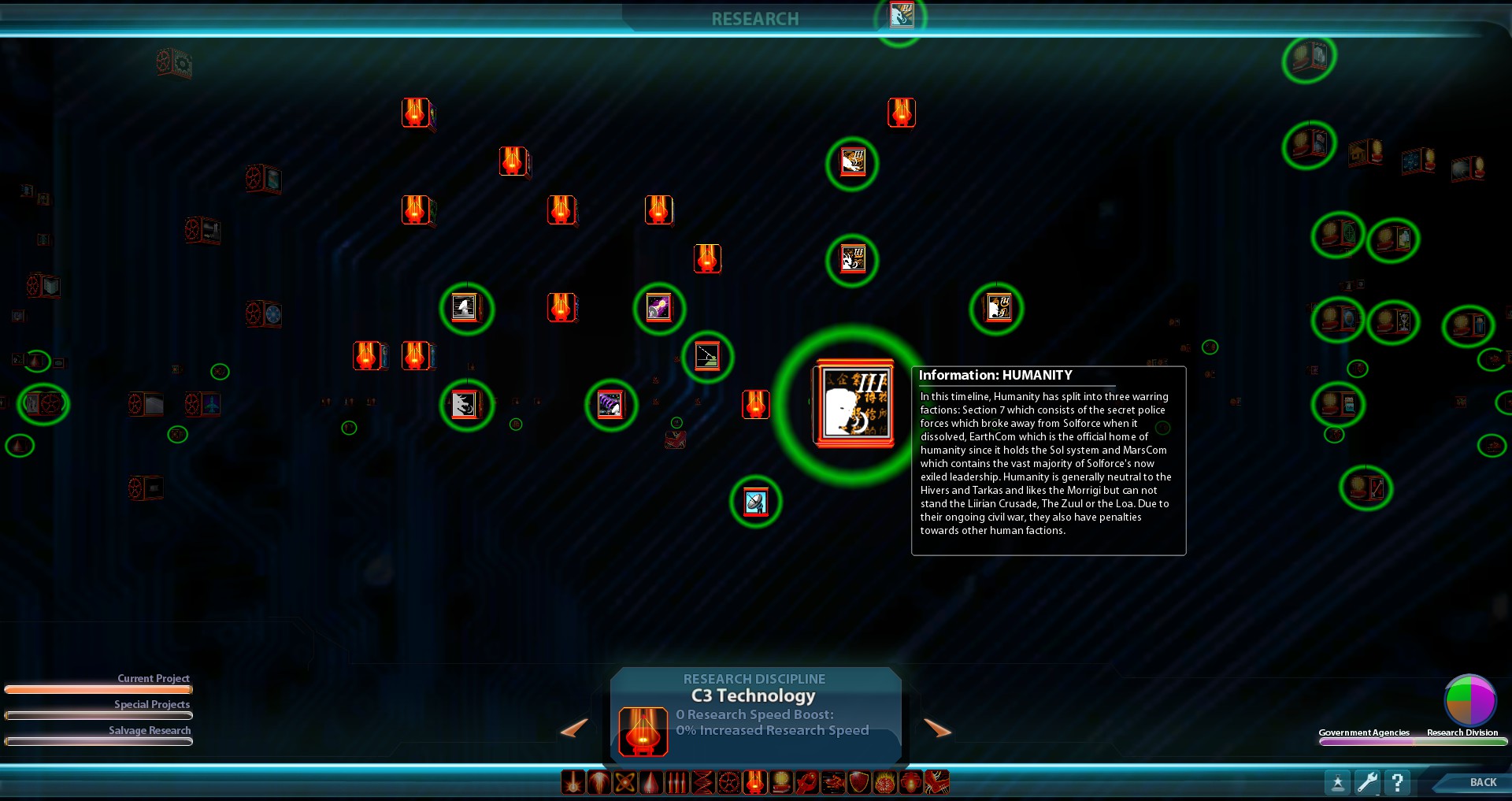 "In this timeline, Humanity has split into three warring factions: Section 7 which consists of the secret police forces which broke away from Solforce when it dissolved, EarthCom which is the official home of humanity since it holds the Sol system and MarsCom which contains the vast majority of Solforce's now exiled leadership. Humanity is generally neutral to the Hivers and Tarkas and likes the Morrigi but can not stand the Liirian Crusade, The Zuul or the Loa. Due to their ongoing civil war, they also have penalties towards other human factions."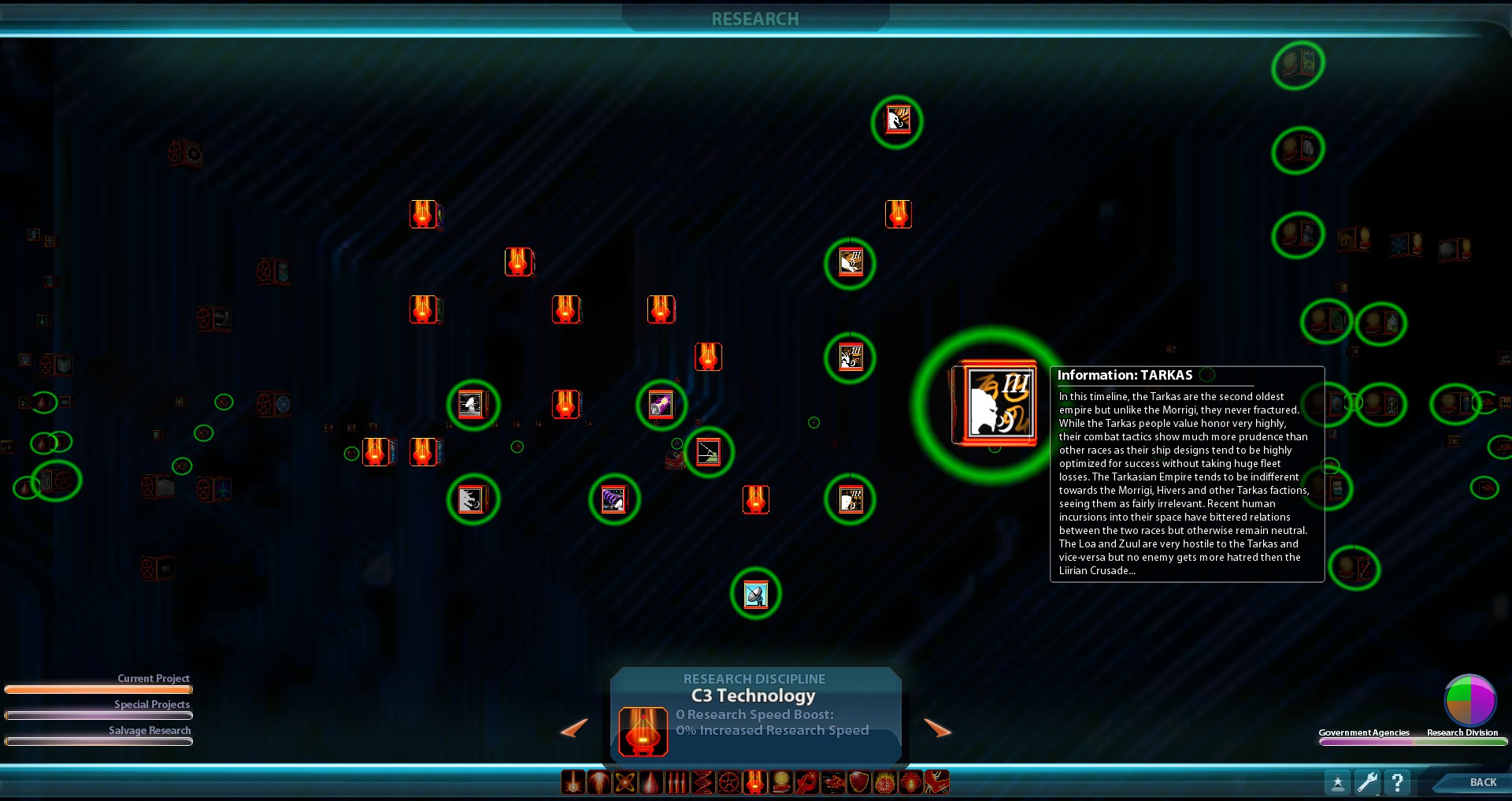 "In this timeline, the Tarkas are the second oldest empire but unlike the Morrigi, they never fractured. While the Tarkas people value honor very highly, their combat tactics show much more prudence than other races as their ship designs tend to be highly optimized for success without taking huge fleet losses. The Tarkasian Empire tends to be indifferent towards the Morrigi, Hivers and other Tarkas factions, seeing them as fairly irrelevant. Recent human incursions into their space have bittered relations between the two races but otherwise remain neutral. The Loa and Zuul are very hostile to the Tarkas and vice-versa but no enemy gets more hatred then the Liirian Crusade..."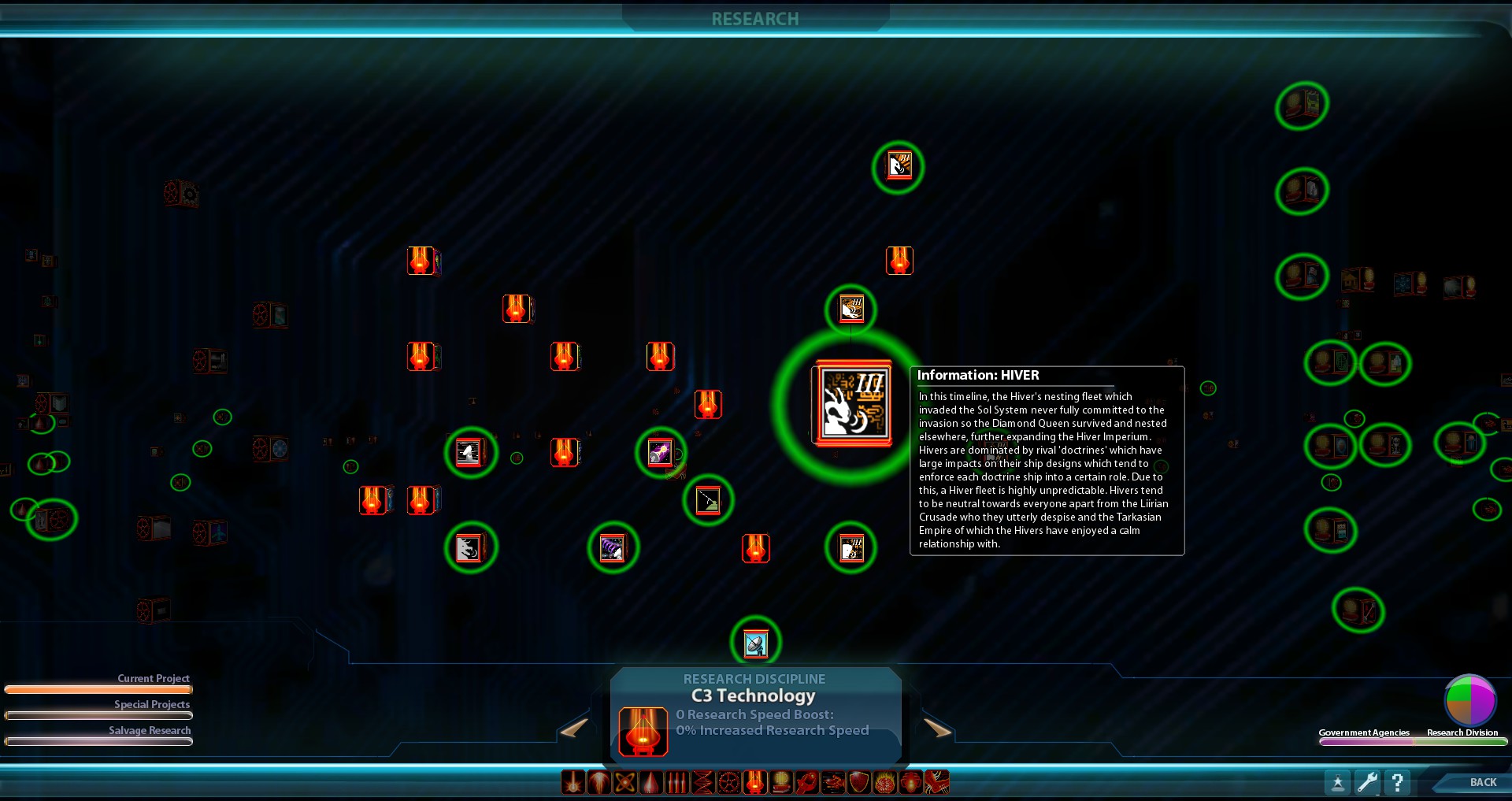 "In this timeline, the Hiver's nesting fleet which invaded the Sol System never fully committed to the invasion so the Diamond Queen survived and nested elsewhere, further expanding the Hiver Imperium. Hivers are dominated by rival 'doctrines' which have large impacts on their ship designs which tend to enforce each doctrine ship into a certain role. Due to this, a Hiver fleet is highly unpredictable. Hivers tend to be neutral towards everyone apart from the Liirian Crusade who they utterly despise and the Tarkasian Empire of which the Hivers have enjoyed a calm relationship with."
Note: It has been a long time since I read the lore of the Hivers\Solforce, so I may have gotten the name of the queen wrong. That can be fixed later if so.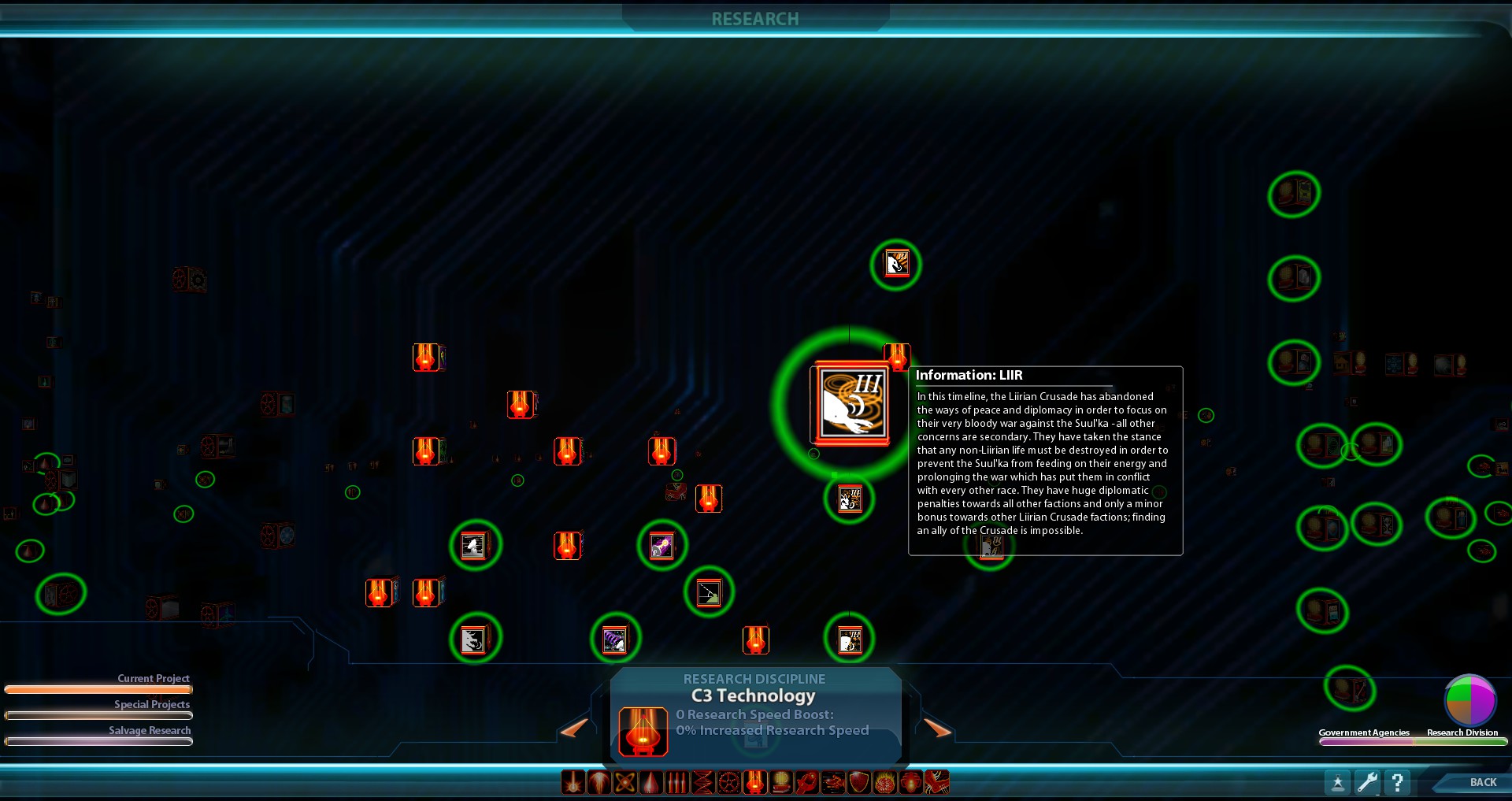 "In this timeline, the Liirian Crusade has abandoned the ways of peace and diplomacy in order to focus on their very bloody war against the Suul'ka - all other concerns are secondary. They have taken the stance that any non-Liirian life must be destroyed in order to prevent the Suul'ka from feeding on their energy and prolonging the war which has put them in conflict with every other race. They have huge diplomatic penalties towards all other factions and only a minor bonus towards other Liirian Crusade factions; finding an ally of the Crusade is impossible."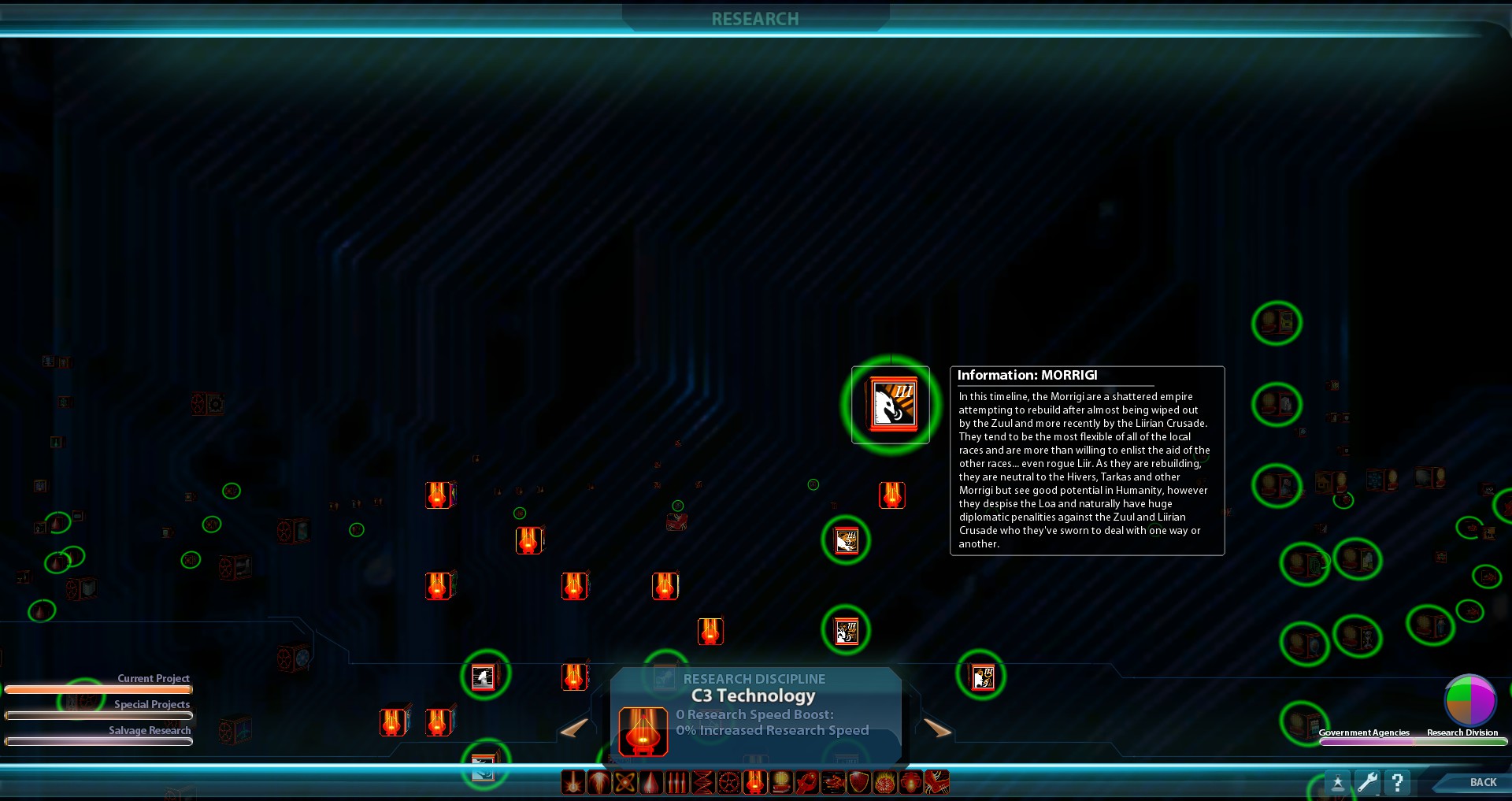 "In this timeline, the Morrigi are a shattered empire attempting to rebuild after almost being wiped out by the Zuul and more recently by the Liirian Crusade. They tend to be the most flexible of all of the local races and are more than willing to enlist the aid of the other races... even rogue Liir. As they are rebuilding, they are neutral to the Hivers, Tarkas and other Morrigi but see good potential in Humanity, however they despise the Loa and naturally have huge diplomatic penalties against the Zuul and Liirian Crusade who they've sworn to deal with one way or another."
The Morrigi have the least amount of backstory so far, but that's because I've got to revisit them as a faction.