Depending my mood, I might get the entire thing done today but unsure as of yet.
Today's focus has been resuming the ballistic redesign I talked about a few months ago. There will be spelling errors since I don't use a spellchecker and I'm more focused on speed and remembering what I'm doing - spellchecking is one of the last things I do.
------------------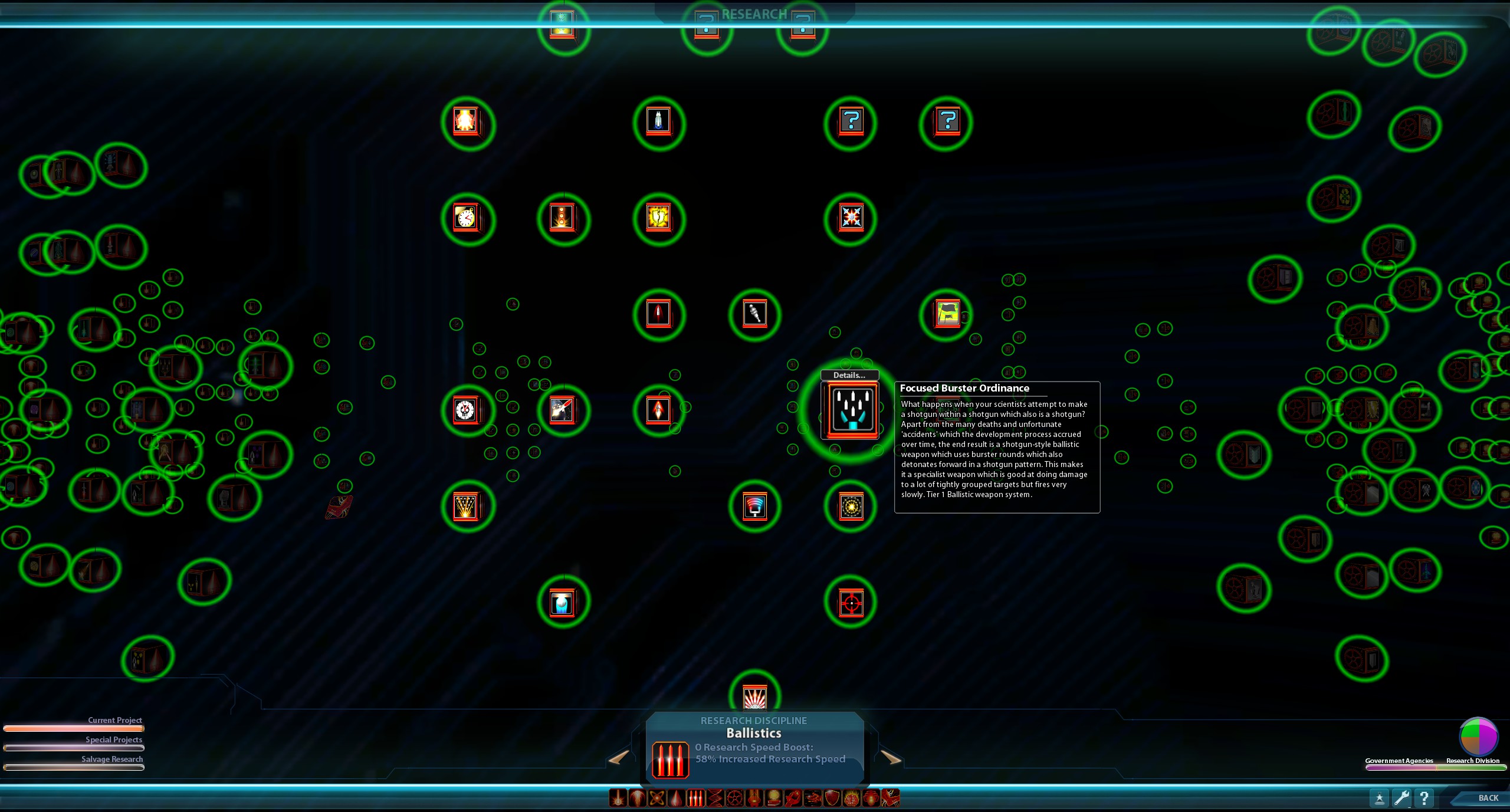 The general layout is visible here, as usual working within the limitations the game has in tech tree modding.
So at the bottom of the tree and the only starting tech anyone gets apart from ballistic-focused factions is the
Dual System Ballistics
tech.
"Ballistics are always going to be easier to field when compared to energy weapons but their damage potential in spaceborn combat has always been lackluster. This recent advancement allows our basic spaceborn autocannons to not only function in deep space but more importantly to change its ammo type to a smaller caliber using SABOT technology which also allows the same weapon to function as a point defense weapon. This tech provides the baseline requirement for all Tier 0 ballistics, of which there are four kinds."
This means that from turn 1 of the game, all factions barring Loa (who don't have a ballistics tree) start with a servicable PD weapon which doubles as a generic short\medium range weapon due to it using SOTS2's variable weapon ability - something which is very, very useful for modders I might add.
It is also the first of the 'tier 0' ballistic weapons which I've gone ahead and marked in the techs themselves for clarity.
Five other techs are available to research from the start as well.
Kinetic Energy Recycling
-
"A new system of storing energy produced after each firing of a ballistic weapon allows effective recycling of the energy used per shot which allows this energy to be used to fire the next projectile much sooner than without this system. This technology is automatically applied to all present and future ballistic weapons of all types and results in a 25% improvement in ballistic rate of fire."
This tech is the usual rate of fire bonus for ballistics. Tarkas starts with this for free at the start. Hivers do not since they are now a cannon (energy cannon) faction at the start.
Scatterpack Shells
-
"Scatterpack shells are an unusual projectile which is multiple smaller projectiles bundled within a shell-like casing which produces a shotgun like spread pattern when fired. These can only be fitted to Heavy and Very Heavy mounts. Tier 0 Ballistics Weapon System."
More damage for a shorter range and no PD capability compared to the Autocannons, which are the actual weapon given at the start of the ballistic tree.
Rifled Barrels
-
"The third type of viable chemically propelled ballistic weaponry are simply oversized cannons nicknamed 'Snipers' which have a very long range and considerable damage potential. Due to infusing the projectile with a small amount of fissionable material, the damage done upon impact increases the further away the target is. Tier 0 Ballistic weapon system."
The long range option for early game ballistics.
Burster Ordinance
-
"The fourth and final viable chemically propelled weapon system, Bursters are essentially containers filled with various types of explosives. When they detonate, they cause damage to all targets within a small radius akin to a 'flak' explosion and they also release fairly deadly shrapnel in random directions. For this sort of firepower, there are serious downsides which have to be taken into account including friendly fire incidents. Tier 0 Ballistic Weapon System."
Bursters offer some AOE damage but they are not terribly accurate which one should have guessed.
Magnetic Coils
- "ADVANCEMENT TECHNOLOGY: Replacing chemical propulsion with magnetic coils allows for far more effective ballistic weapons with only a minor cost in power usage. This also allows a wider range of potential weapon types to be developed using this system which would not have survived the launch generated by the older propulsion method. This advances your ballistic weapons to the Fusion era. Required for Tier 1 ballistic weapon research and unlocks the Magnetic Cannon which is an improved version of the 'sniper' type ballistic weapon."
Welcome to the future. Sort of. This tech is how you advance to the next tier of weapons called 'tier 1'. Tier 0 weapons are chemically based (they use the interceptor launch effect) while Tier 1 now use magnetic propulsion (They use the AP Gauss launch effect, mostly). They tend to be more specialized and unlike energy weapons, there's no reason to go back to chemical unless you're trying to balance power requirements or simple financial costs. This tech unlocks 8 more for research.
Corrosive Rounds
-
"Living steel is one of the most important innovations of the Tarkasian people and some of our more radical scientists have proposed a new use for it; eating away at the armor and structure of hostile ships. With this research, we will be able to field a variant of the Magnetic Cannon which uses a variant of Living steel which bursts into a corrosive cloud for a short period of time. Tarkasian only Tier 1 ballistic weapon system."
While PH doesn't limit techs very often, some factions do get their own stuff to help emphasize their PH lore-based preferences. Tarkas are a ballistic faction so they get this tech due to that. The duration of the corrosive cloud is very short; it is more a damage dealing tool than an area denial weapon like the actual corrosive missiles.
Ballistic Torpedo
-
"A ballistic torpedo is as the name implies, a ballistic-based torpedo which benefits from ballistic research and doesn't suffer from such a severe loss of damage at closer ranges as the energy based variants. This technology will unlock Torpedo mounts if not otherwise already available."
One of the two mount-unlocking techs for the ballistic tree which is totally optional. If you're roleplaying and don't want to use energy based torpedoes or you've gotten a lot of ballistic techs but very few energy-damage techs then using a ballistic torpedo makes sense since they get bonuses on ballistic research instead of energy research.
HEAP Ordinance
-
"With the safety of Magnetic weapons more properly understood it has become practical to update the aging Autocannon design with HEAP rounds. HEAP stands for High Explosive Armor Piercing which when used in the style of an autocannon offers a very balanced combination of structural damage, armor damage and armor piercing though it can still get deflected from higher end armor plating. Retains the variable PD capability of its predecessor. Tier 1 ballistic weapon System."
Exactly as it says on the tin; an improved autocannon.
Focused Burster Ordinance
-
"What happens when your scientists attempt to make a shotgun within a shotgun which also is a shotgun? Apart from the many deaths and unfortunate 'accidents' which the development process accrued over time, the end result is a shotgun-style ballistic weapon which uses burster rounds which also detonates forward in a shotgun pattern. This makes it a specialist weapon which is good at doing damage to a lot of tightly grouped targets but fires very slowly. Tier 1 Ballistic weapon system."
Personally I've nicknamed this the 'set the galaxy on fire' weapon since it produces a lot of fire effects and in larger battles is quite the sight. One of the best ways to deal with a bunch of battleriders and larger groups of drones all in the same place.
Planetary Bombardment
-
"Planetary Bombardment rounds are dedicated anti-planet ordinance which while not being very effective in ship-to-ship engagements, does immense damage to the colony population and infrastructure. It does very little damage to the Colony Hazard rating so a prolonged bombardment won't render the planet uninhabitable. Tier 1 Ballistic weapon system."
This may sound confusing and to those new to how PH handles planetary attacks... most weapons will barely scratch a planet's population, infrastructure not to mention their colony hazard rating. The ballistic solution which can even be fitted to drones (when they cooperate and attack a planet) are these weapons which are very good at cleansing a hostile world of any kind of infestation, be they living or not.
Refined Bombardment Rounds
-
"A more expensive version of the Planetary Bombardment rounds which leaves little doubt as to what the galaxy may one day look like; a scorched wasteland of dead worlds. These rounds have been specifically refined in order to maximise their ablility to 'airburst' within a planets atmosphere which causes larger shockwaves to form. This weapon does a lot of Colony Hazard damage and a prolonged bombardment will render any colony useless in the future to all non-Loa races. Tier 1 Ballistic weapon system."
Project Hiver is set in a darker alternate reality to the prime timeline, which is unusual considering how dark the prime timeline actually is. However planets are targets and war is not pretty and these weapons showcase that fact. Using these weapons enough will render planets CH rating too high to be recolonized by anyone but the loa so it really is something to consider before using.
AP Rounds
-
"AP rounds are expensive and require extra maintenance which means the ship must have additional crew to use this weapon but they are one of the only rounds which will almost never get deflected by any known form of armor regardless of the angle it impacts its target at. This is a variant of the Magnetic Cannon which offers far superior damage and penetration of armor and more structural damage but is hard to justify mass-production of due to its immense costs. Tier 1.5 ballistic weapon system."
Armor deflection is low right now in PH but with this revamp of the ballistic weapons, its going back up. AP rounds counter this but deflection will still never be something that'll make ballistics totally useless; sure you won't penetrate Neutronium armor with chemical ballistic weapons but the better the weapon tier the easier it is to not be deflected.
Energy Enhancement Coils
-
"ADVANCEMENT TECHNOLOGY: These specialised coils use Anti-matter in order to quite litterally supercharge a new breed of ballistic weaponry. These coils have a notable drawback however that they must charge before 'firing' their projectile which means said projectile has a delay before it actually leaves the barrel. This advances your ballistic weapons to the Antimatter-era which is considered to be Tier 2 and provides the Rail-cannon, which is an improved version of the Magnetic Cannon."
Now we get into the real meat of the ballistic weapon revamp; more of the exotic stuff can be found in this tier. Most of the weapons are done but some are not; got a few more decisions to make first. There are 11 techs to research after this.
Intelligent Weapon Systems
-
"With the advent of antimatter technology and the resulting miniturisation that offers, our scientists believe they could make a range of launchable weapons called COL or Complex Ordinance Launchers. There are various types which are automatically unlocked once other techs are researched; having any mine techs will provide a Cracker COL for example. The Encyclopedia has more information."
COL has been combined into a single tech not only so I can use the other tech slots for something else but to also make it more appealing to actually research.
Shield Breaker Ordinance
-
"Shield Breaker ordinance is a ferrous-silicate dust which has been electrically charged that is specially designed to disrupt high-energy shields and bring them down by doing massive damage to said shields but very little actual damage to the ship itself. Tier 2 ballistic weapon system."
Nothing special here has been changed; same old Shield Breakers as always however since its now a Tier 2 (Antimatter) era weapon, it will shred shields like nothing else can.
Stormers
-
"Stormers are the antimatter version of the venerable autocannon which improves it in every way concievable at only the cost of an increased price and additional power consumption. Tier 2 ballistic weapon system."
This isn't actually in the same spot it used to be, keep that in mind. It is the final version of the ballistic starting weapon unless I decide to make a reflex version which currently I have no plans to do.
Chrono Rounds
-
"Chrono Rounds are incredibly advanced weapons which throw the internal structure of a ship into a different dimension which totally bypasses armor if the round is not deflected. One of the only weapons which requires Supply alongside Power and Crew, if a targets armor is breached then it will not survive long. This makes it exceptional at hunting larger targets such as leviathans once their armor is gone. Tier 2.5 ballistic weapon system."
Possibly overpowered but will see. These things are very powerful and are only held back by having low armor damage.
Tempest Conversion Initiative
-
"After the successful study of the Von-Neumann probes weaponry we have already aquired energy-based tempest style weaponry. However our scientists believe we can further refine the technology by refitting our existing Rail-cannon to utilise a tempest payload. This means that upon impact with a target, it will have a good chance of having entire weapon banks ripped away from its hull and badly damaging the ships power transfer systems. Tier 2.5 ballistic weapon system."
Over in the energy tree are the superweapons. After researching the 2nd last one, this tech becomes available to research. Tempests are already considered a superweapon by me even in the base game so giving them ballistic properties seems insane. But that's why this is a superweapon tech.
Leech Ordinance
-
"Leech ordinance is a highly specialized shell that binds to the hull of the target and punches invasive superconductor spikes into the target ships power conduits. The leech round will then siphon away almost all power from the target ship for roughly eight seconds before the round's own power reserves overload and it burns itself out and falls away. Draining a ships energy in this way leaves it helpless as if it was hit by an EMP-type weapon. Tier 2 ballistic weapon system."
A dramatic buff for the Leech rounds which converts them from draining to disabling. EMP duration may need tweaking after I've had more time to test it or a rate of fire nerf - I don't want permanent EMP effects on any weapon.
Now there are still techs I've not listed here, as they are in the parts I've not yet done today. Those include the Impactor, Siege and Reflex stuff. Yes... reflex-era ballistics, Tier 3. Still deciding on effects to use for them though but will find something.