What is this?
This is an ongoing AAR of the final match of the pre-alpha version of Project Hiver. Once I am satisfied that Solforce is performing to expectations on such a huge map and that I encounter no major bugs (be they crash worthy or not), I will upload the entirety of Project Hiver.
Why is this in the modding section?
Mods stay in the modding section afaik regardless off content. Besides, it is a lot less confusing for people as I don't have to keep explaining that this is a highly modded AAR.
Will you upload any videos?
Probably. By this point in time, spoilers are irrelevant for most people.
---------------
MAP SETUP
This is the unmodified SOTSVERSE map using the current Project Hiver star system generation mod to balance out most of the random systems and to provide better flow for various things.
All factions are in their proper placement spots with "PH-accurate" color schemes according to the new lore I've developed for this alternate universe.
There are no "cheats" running. No faction can instantly research anything, no faction has unlimited money and there is no ship or station upkeep, period.
Economy and Research sliders are at 100%.
Random Encounters are at 100%.
Grand Menaces are at 5.
GAME NOTES
Randoms and Grand Menaces do not start until turn 100. As of the start of me doing this AAR, I am at turn 80 and have 20 turns to prepare before both the randoms and GMs start getting involved.
Every weapon barring a very few situational cases were custom made by me.
The Tech Tree is currently unbiased towards any one faction as all techs are either 100%, 99% or 0%.
This AAR includes the latest version of my Tech Tree mod which has vastly rebalanced the costs, chances and AI priority of all techs in the game. It also means that some techs are outright removed such as Emitters and Variable Lasers.
I have not yet completed the string editing in the locale file. Many things will have different descriptions, but not everything.
I have no idea what the AI's are up to or doing. All I did was move to the Liir slot during at turn 20 to ensure they were not bugged\idle, and they were not.
The Gardener is disabled.
Supernove are disabled.
Comet is disabled.
Neutron Star is disabled.
Independents are disabled. (They caused an AI crash occasionally.)
Clairvoyance tech is disabled due to Liir AI crash.
Government Sway is changed - certain things are a lot better at swaying your government stance, but minor things like station modules no longer have any effect.
AI fleets are now capable of launching interception missions and tend to have better fleet compositions.
Starting fleets for all factions now fill up their CP allowance - you don't start with one construction ship anymore, you start with more. Remember, ships cost no upkeep in PH.
Global research speed is 40% due to the fact that you no longer pay upkeep costs.
---------------------------------
Initiating report to Section 7 High Command
This is a classified file for Human eyes only. If you possess an alternate form of viewing these documents, you are clearly not human and security has been alerted.
The Known Universe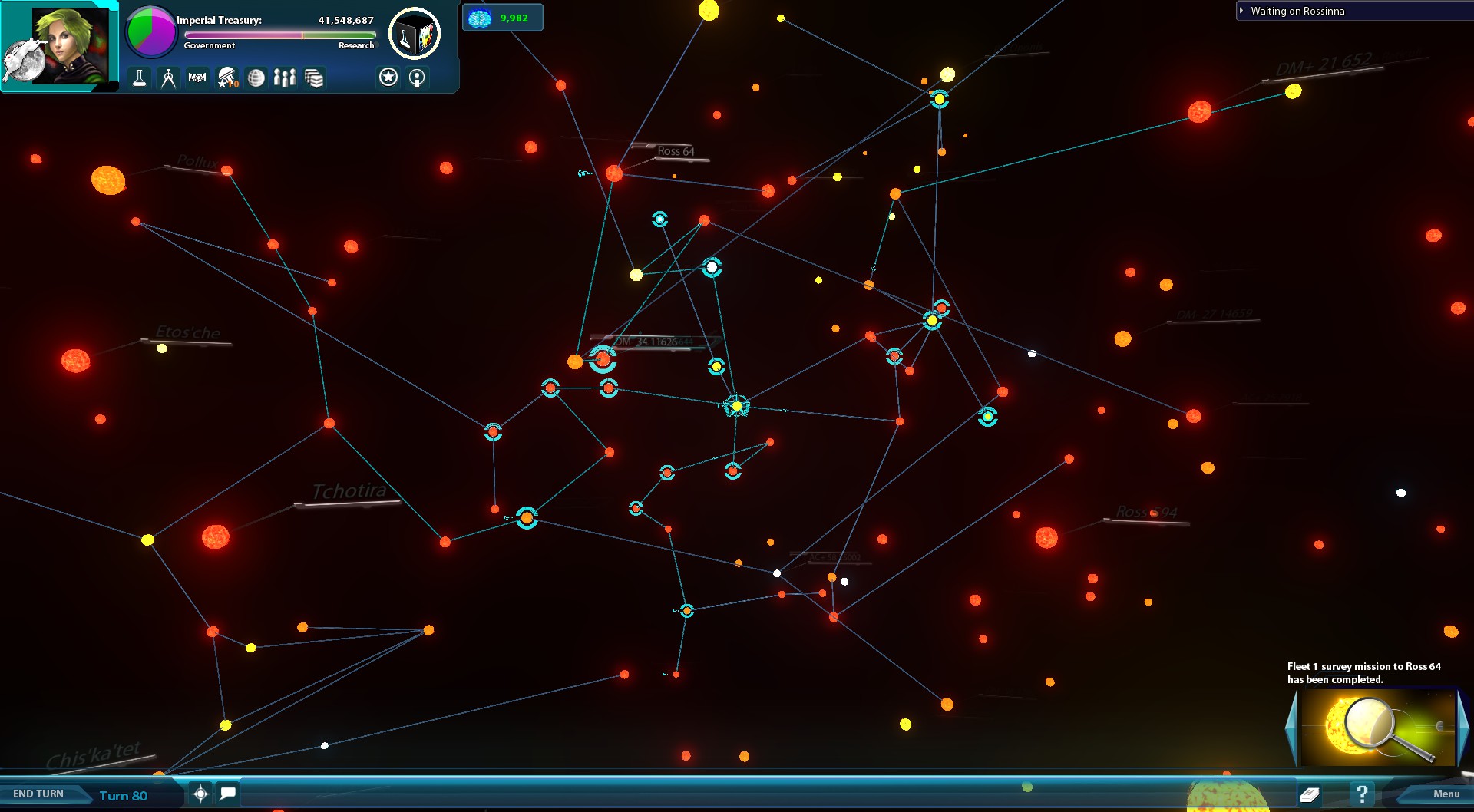 Expansion is progressing at a reasonable pace. Preparation for defensive measures are underway. An unknown race has been encounted, calling themselves the Morrigi.
Forge World Venus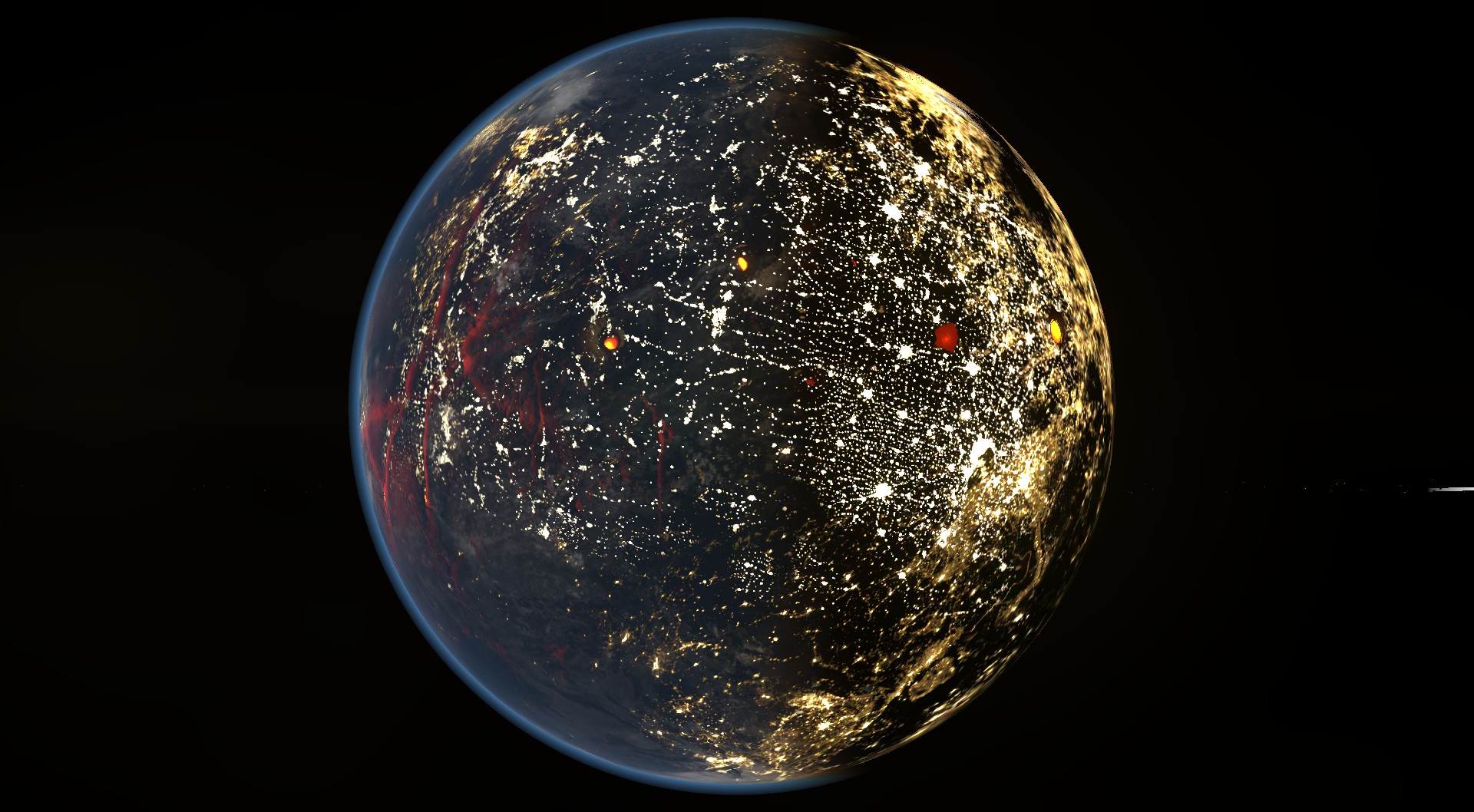 Before the Hiver invasion, plans had been set forth to explore and eventually colonize Mars. However this proved impractical when compared to the possibilities offered by Venus. By a public order directly after the Hiver invasion, efforts to terraform and eventually colonize Venus was stepped up. By the present time, Venus is only rivaled by Earth herself, having established itself as a major center for ship production and volatile research experiments.
Forge World Earth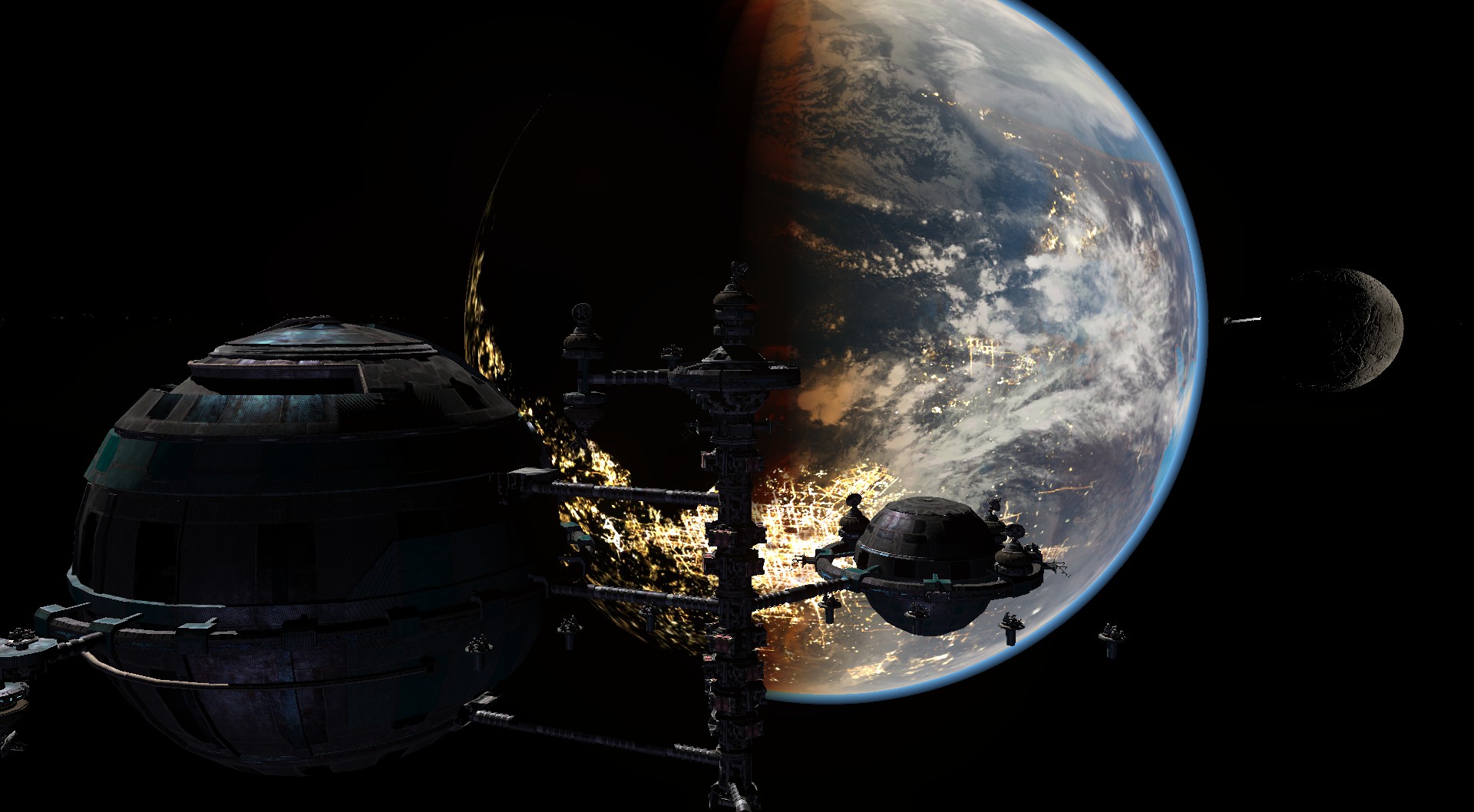 A popular but antique science fiction series once depicted a planet near the center of the galaxy as being essentially "one giant city". Our population took that idea and made it a reality without destroying the planet's natural resources. However, we did wind up destroying all of the local bioforms in the process, but our people seemed more than content to simply replace their pets with robotic ones. A popular slogan while entering a pet store is "We can rebuild it!".
Neubayern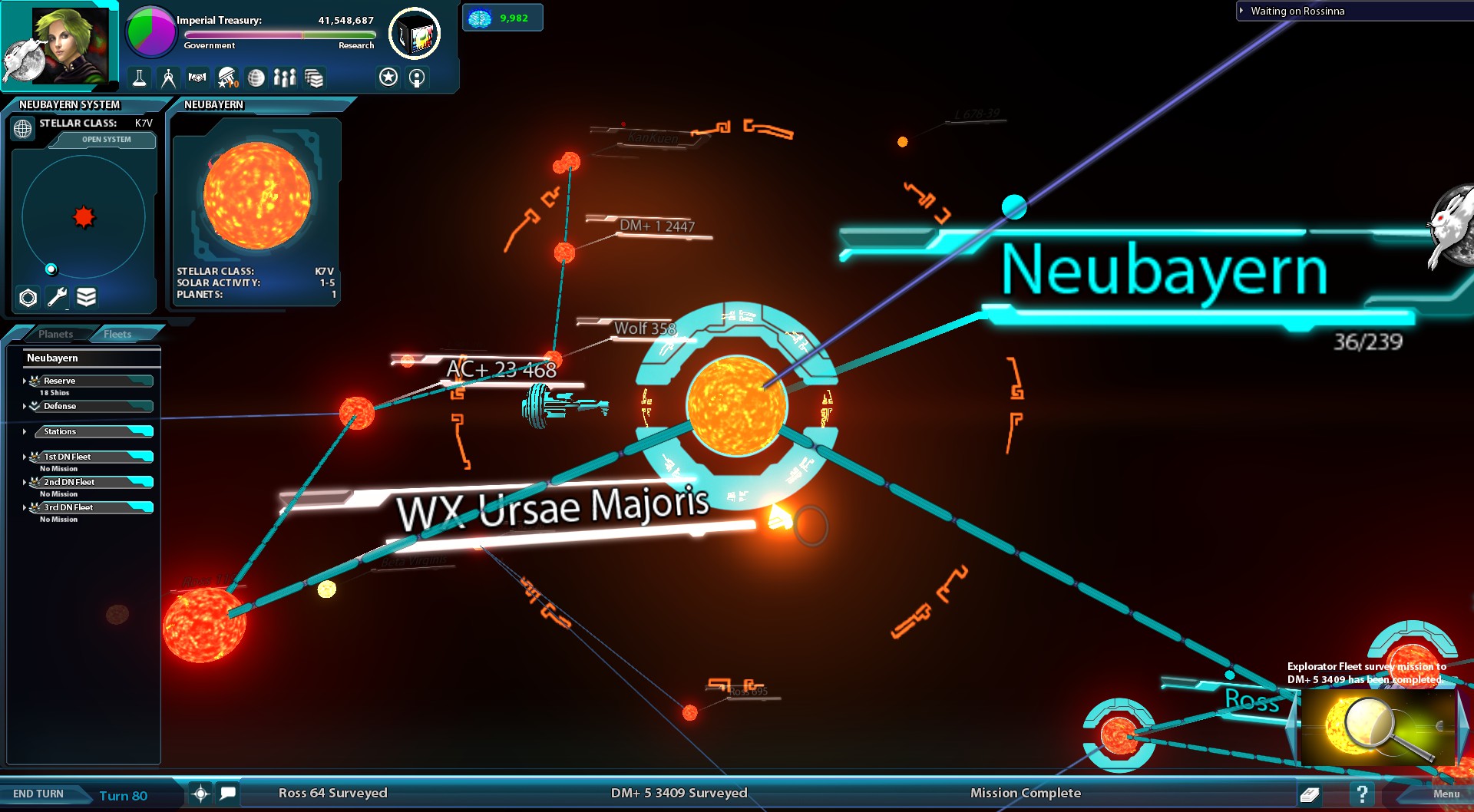 It has come to our attention that the alien race calling themselves the Morrigi are attempting to expand their influence into our sector of operations. Initial attempts at forming peaceful relations with this species ended in tragedy as their diplomats demanded that there will be no peace unless we share all of our research data with them. As the High Command is not in the habit of giving unknown aliens our technology, tensions have risen on Neubayern which is the closest world to the Morrigi, as well as the only world with a NodeLine into their territory. As a show of force, we have stationed three entire Dreadnought fleets here and are steadily improving the local naval station's capabilities to wage war, if it happens to come to such a thing.
Neubayern System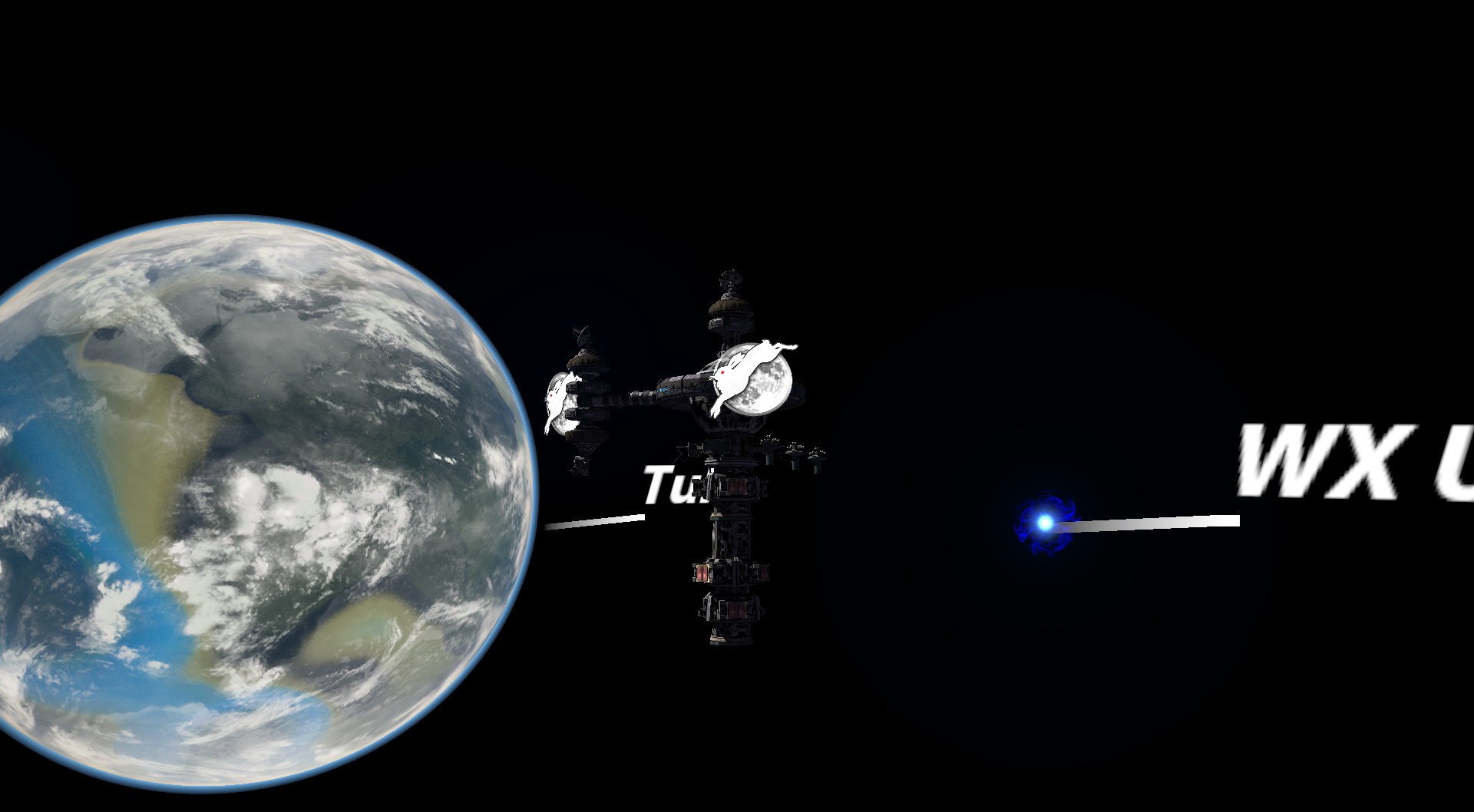 Recently declassified images of the local space in the Neubayern system show how terribly unprepared this system is to an alien assault. A new prototype defensive platform is rumored to be under development on this planet to solve this issue.
Research
Our scientists are currently focusing on Acceleration Amplification, due to High Commands refusal to pursue beam based weaponry at the present time. It is hoped that the sheer firepower of these new weapon systems will give us an edge in any upcoming conflicts.
Research?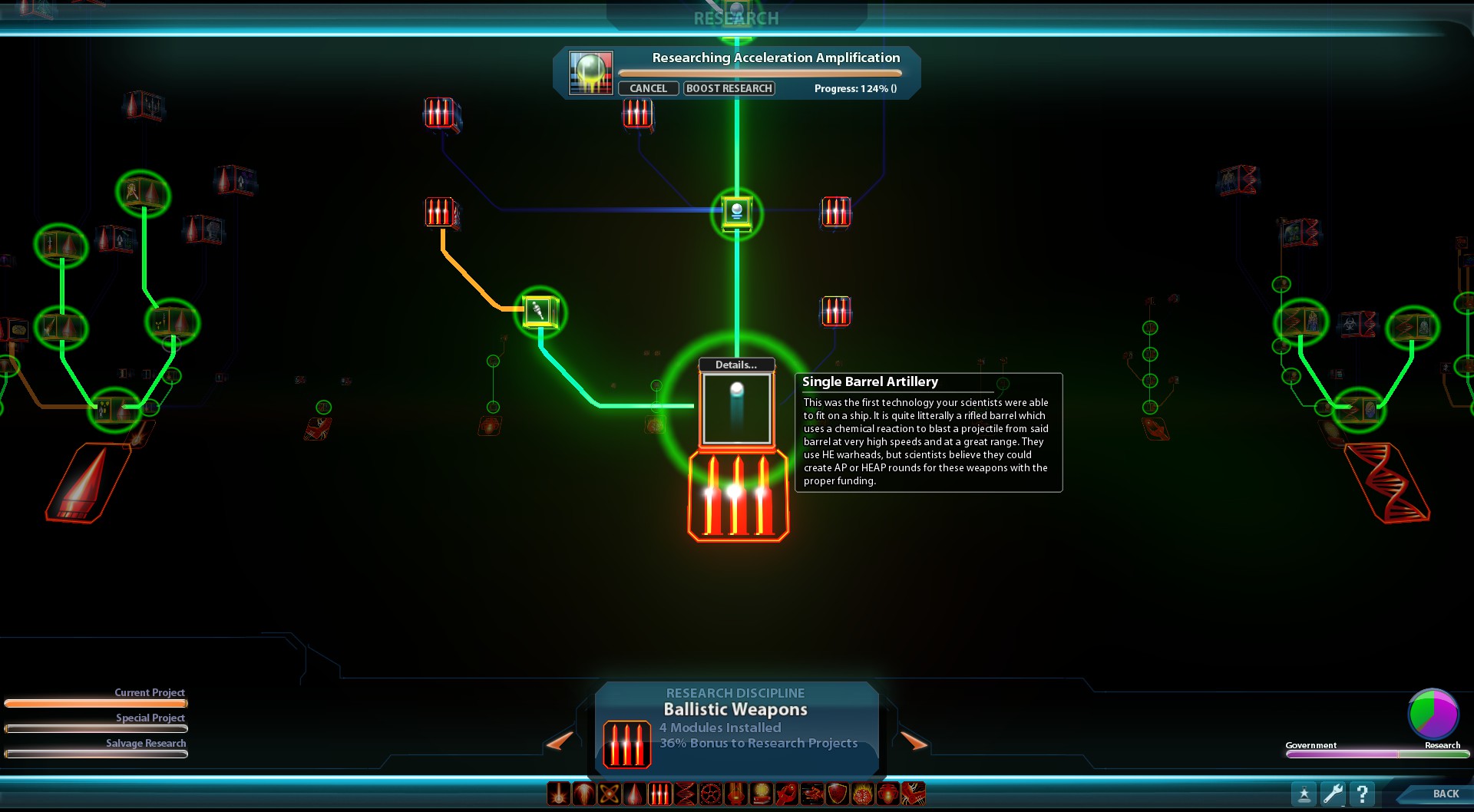 Apparently most of the research budgets goes into the scientists trying to describe things that we already know about.
SFS AJAX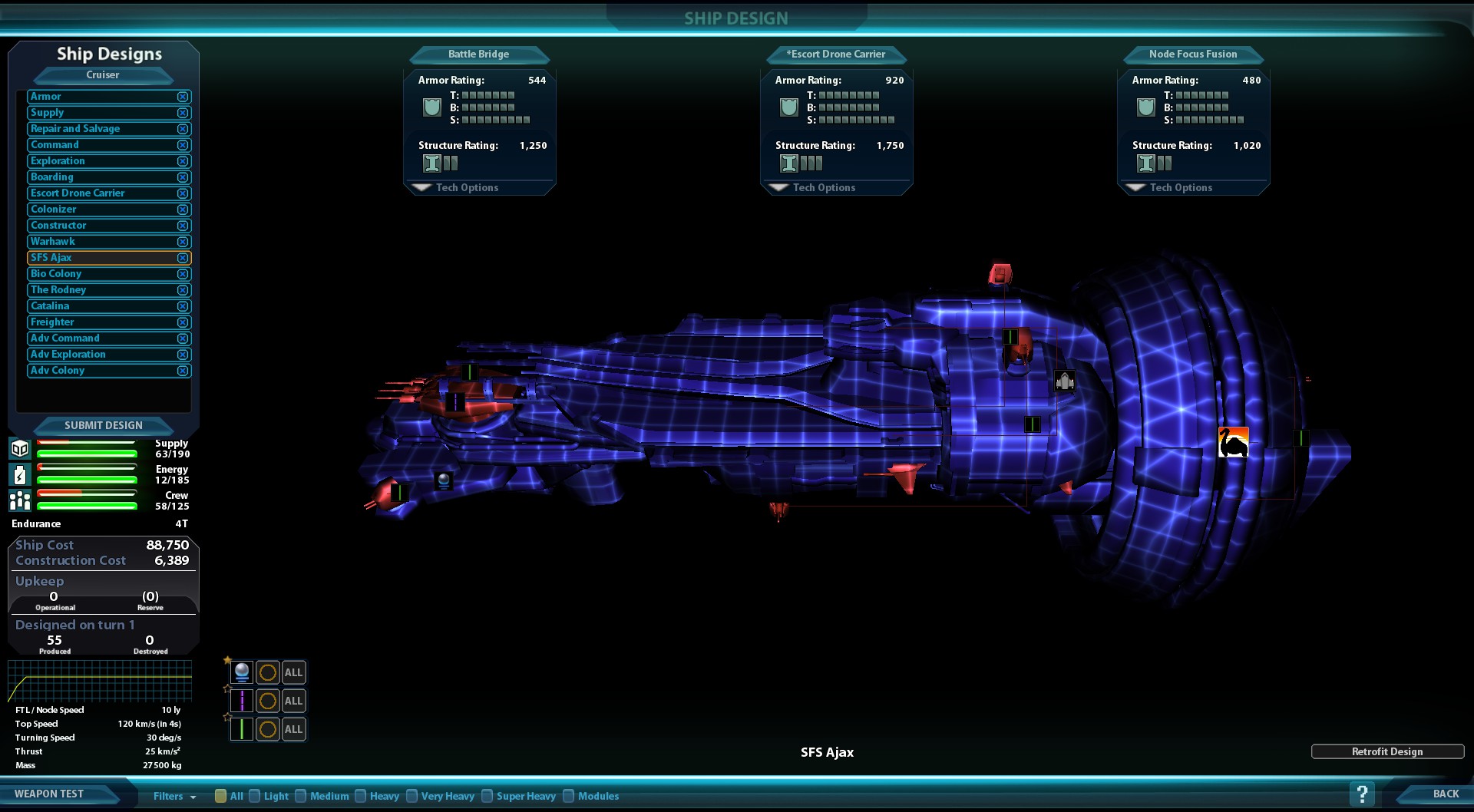 The current backbone of the survey effort as well as all defensive operations, the Ajax is a specialized drone cruiser which was designed to test the effectiveness of carrier-based warfare.
Catalina Mk2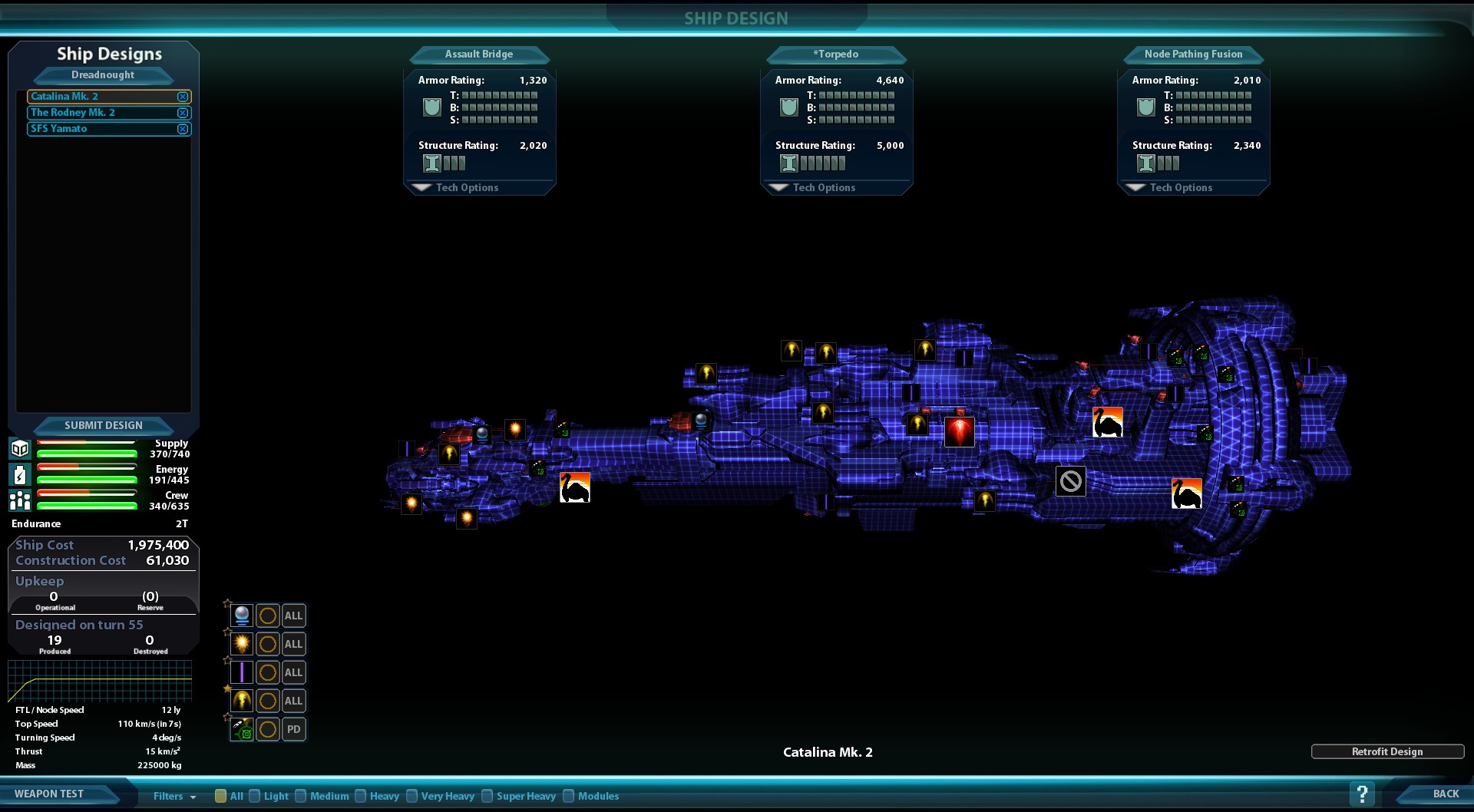 An older design which is crying out for a replacement, this stalwart is currently the only thing preventing a potential invasion of our worlds by the alien Morrigi forces. It is hoped that the sheer firepower of its torpedo-based systems will allow it to both perform well in offensive and defensive operations.
The Morrigi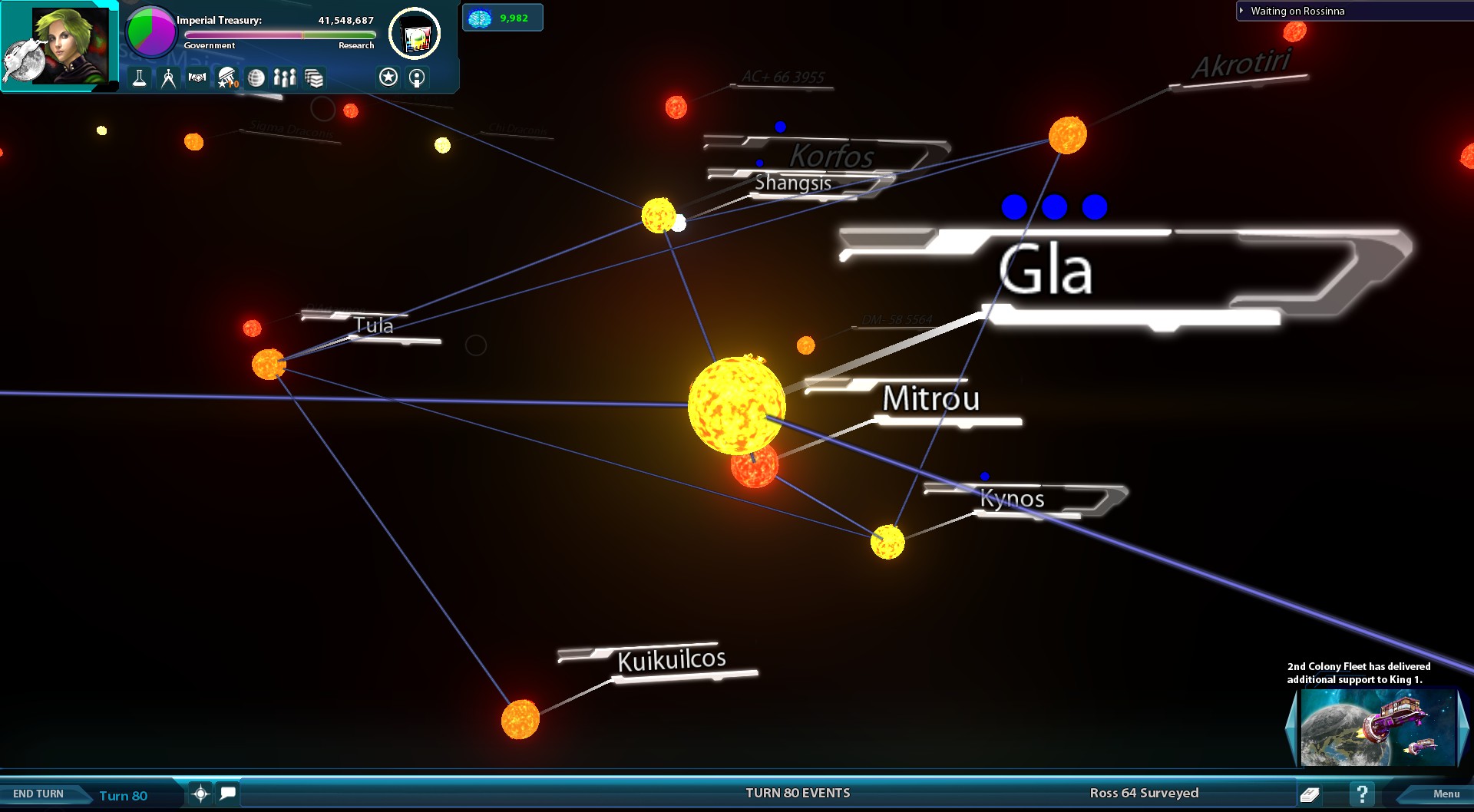 We know very little about this alien race, apart from the fact that they are first hostile species we have met since the Hiver Invasion took place.
Rumors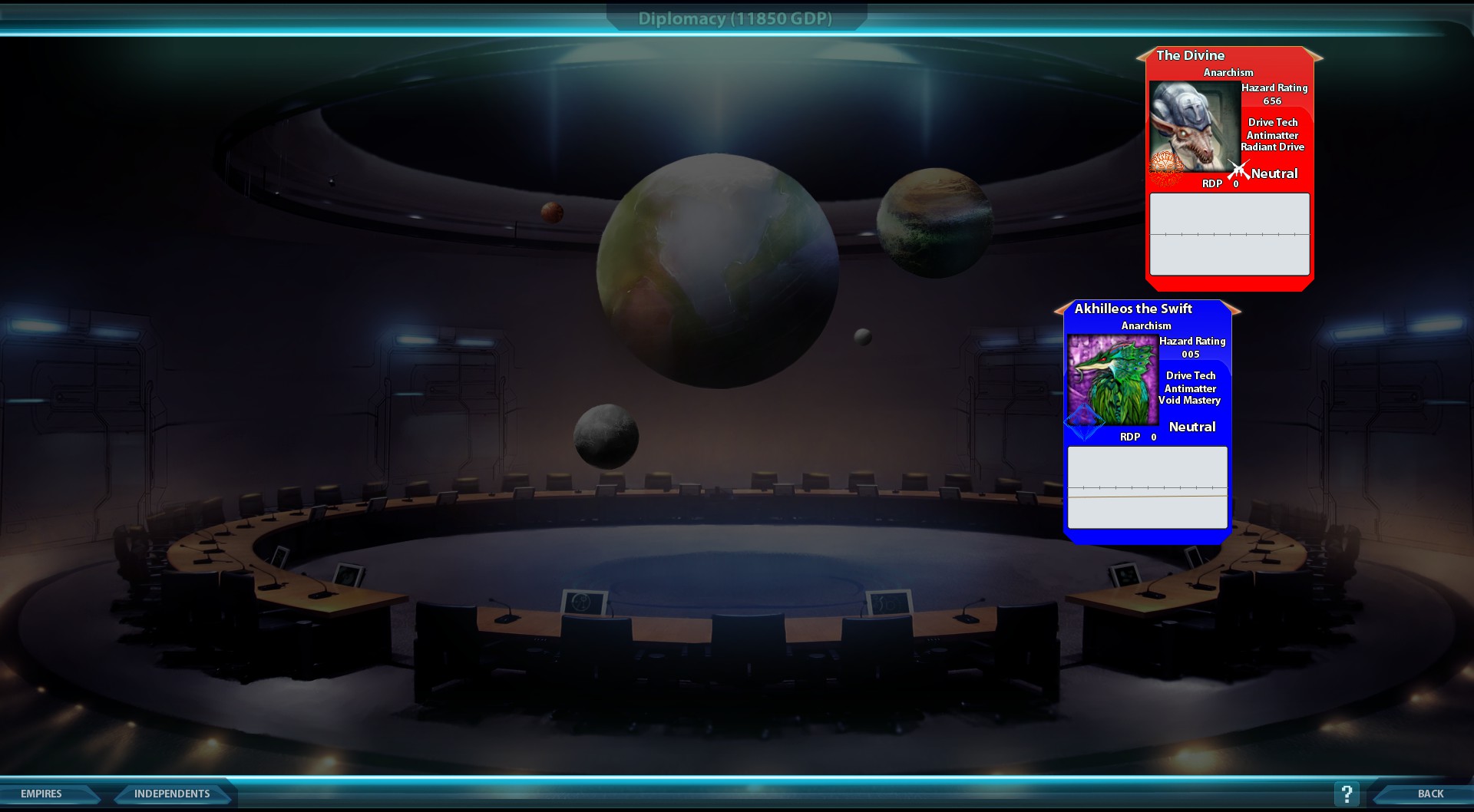 Rumors have persisted around a phantom sensor contact which was apparently "rending space" in order to travel to an unknown system. However these reports are unconfirmed and as of yet, we only have very distorted records of an unknown fleet appearing on radar a single time.
Finances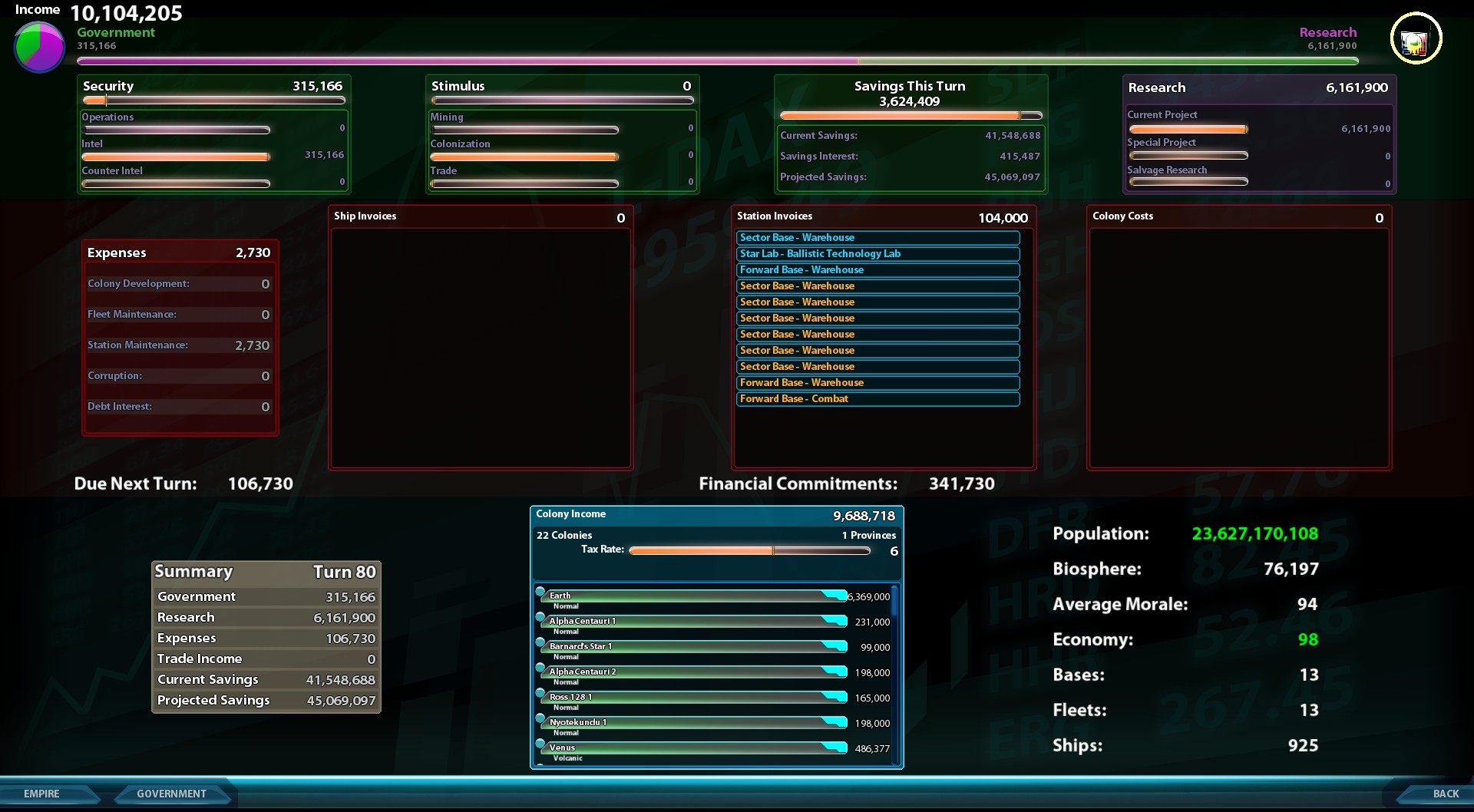 Our income is looking quite good at this point in time. While the lack of an established trade network is slowing our progress down, High Command has deemed that it is more important to get a strong military up and running before allowing trade to run rampant. The costs of producing Dreadnoughts is staggering however, and a large fleet of them are planned for the near future so this surplus may be used soon enough.
Government Standing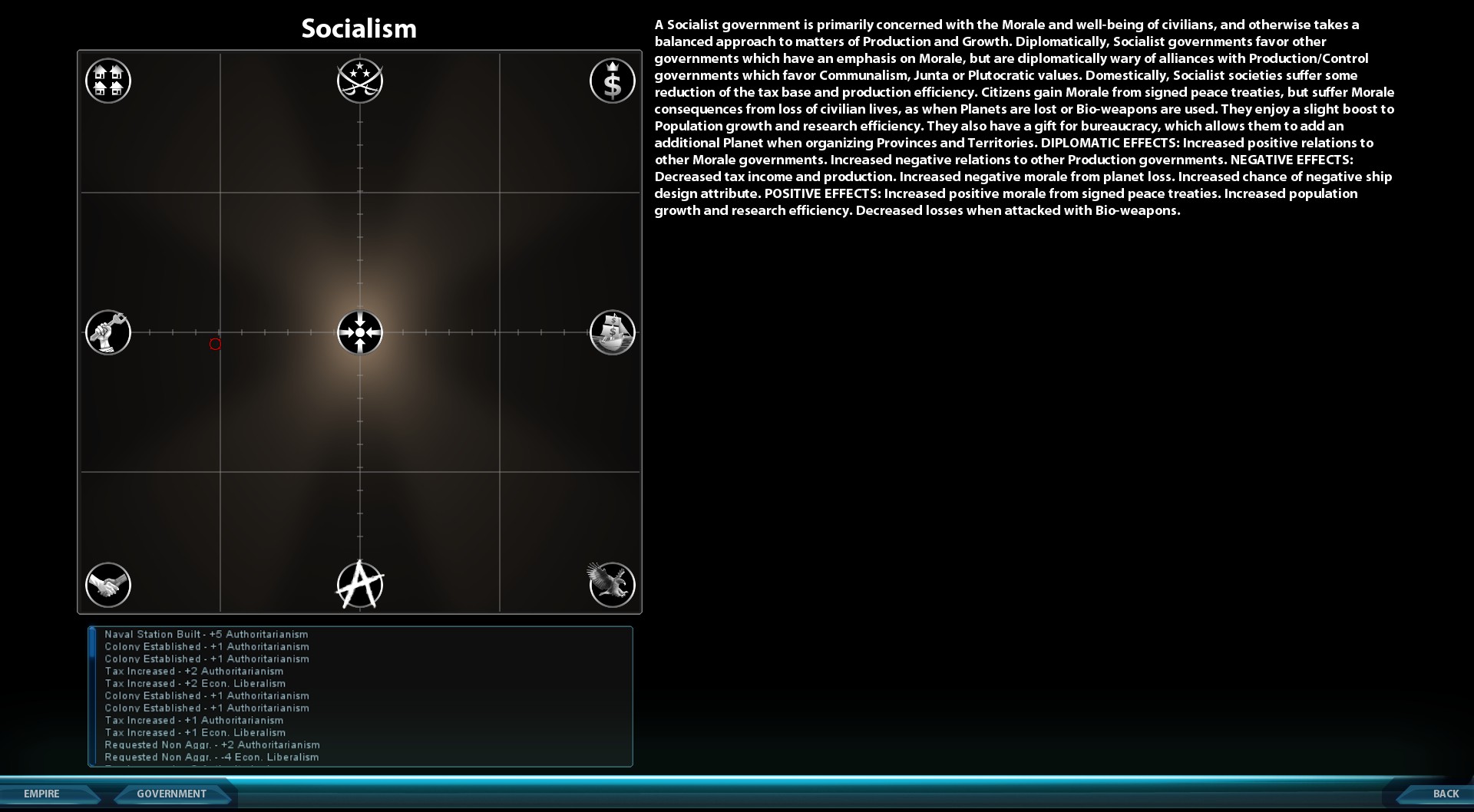 We are currently running a socialist government.
Please note that I have changed the government bonuses and so that description is no longer accurate.
Today's Fleet Song
Touhou - Who Am I?