The effects of speed traps appear to stack (whether this is intended or not, I cannot say)...you can do some pretty fun stuff if you happen to get a pair of them close together, especially if they also happen to be surrounding the ladder!
That was on floor 3...so I cleared out floor 4 then went back up, walked through the traps to become Flash Gordon, and just ran like HELL through floor 5. I was being chased by pretty much everything on the floor to a dead-end room, I could only pray that just this one time Mr. Sadorandosodomizer would be gentle, and what do I find?
A LADDER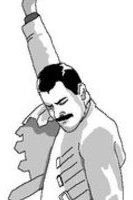 I even managed to clear the entire first room of floor 6 and was about to gleefully open up the ammo crate and locker that were sitting there...but it turns out the crate was actually an Adaptoid so he just ate me. Whatever; I rule.